The Bull Hill Workshop
by Georg Papp, Sr.
(Colchester, Ct.)
I've been building the best outhouses/backhouses/privies for many years and know about as much as anybody can about building them.


I strive for accuracy and practicality and although some folk call themselves experts in the field, I prefer Authority as no one can know everything about a structure which has been individualized over hundreds of years.
True, some of my customers need garden sheds but isn't that what most older outhouses have become anyways? Those folk get a outhouse with a floor under a hinged seat and added tool pegs. All are vented at the roof line but garden sheds need no pit vent pipe.
Every unit is unique with features only my workshop puts into them and when I can be proud of it. I brand it in three locations.
I started building privies because daddy made me do it.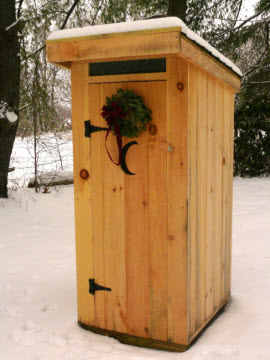 The Rustic. High enough were ya gotta stand, low enough were ya gotta sit. Its the most popular design.
Way back when, after my daughter married and purchased a new home in rural New Hampshire she needed an outhouse. Because I had been a woodworker for many years building damn good furniture though I was a better finisher, she asked "daddy" to build her a thunder box.
If you have a daughter you certainly know what daddy means. Dad is one thing, daddy is another and she used the daddy card when she asked. When she uttered that word, I was obligated. When I built that Kybo in my driveway, it attracted more folks than ants to sugar and brought in several requests and it has grown to a satisfying pasttime.
I've studied and visited many backhouses and had long talks with many old timers and though I
will never call myself an expert, I suppose I am an authority on the subject.
Over the years I've been featured on Boston, Springfield and Hartford television as well as radio and print. I enjoy sharing my knowledge and as WNPR stated enjoy "preserving Americana, one outhouse at a time."
After one of my television interviews, a gentleman e-mailed me to complement me and ask me if I read
The Specialist by Chic Sale
. Despite having been building these and researching them for over ten years then, I had not. So two days later there was a copy in my mailbox inscribed to me from this fan.
As you probably know, Chic was not an outhouse builder but I, of course am. Although Chic obviously wasn't an outhouse builder, I derived a great deal of pleasure from it and recommend it to my audiences.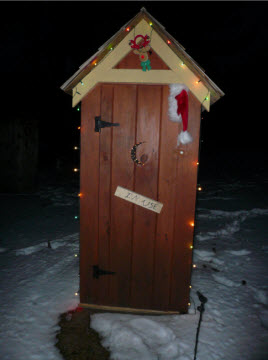 The Americana a stopover point on Christmas eve.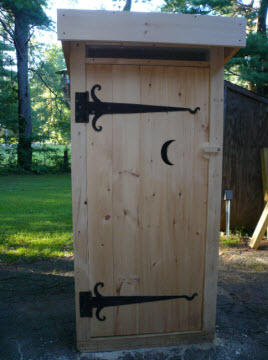 A working outhouse sporting antique hinges removed from an ancient barn.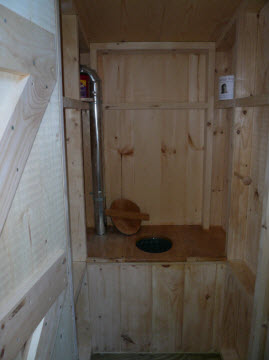 The interior of a working unit. On garden sheds, the seat is hinged for storage and tool pegs are added.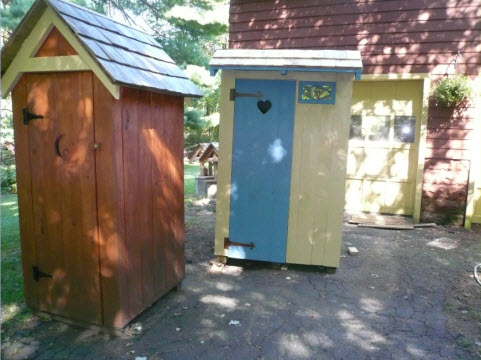 A classic Americana in the foreground with a Euro-French. The French use a heart cut out instead of the crescent. This one is a garden shed with a retractable potting shelf attached to the rear of the structure. The customer had oversize storage requirements but liked this design so the right side of the front also opens by way of hidden hinges and a hidden latch inside.
I'm proud of what I do & enjoy it immensly, so if you need any support regarding outhouses/backhouses/privies etc.
Feel free to contact me.
Georg Papp
I am located in rural Colchester, Ct. and my e-mail address is:
Bullhill (at) snet.net