The BOSH Shed
by Tom Irwin
(London)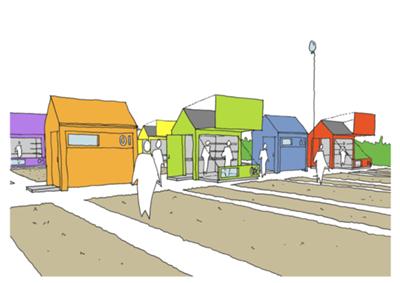 The BOSH Shed
Inspired by the work of Buckminster Fuller, the Winnebago and newspaper kiosks by the Seine in Paris, BOSH brings kinetic design to the allotment.


By night; a standard, secure shed - by day; an explosion of activity.
The BOSH Shed is a simple timber construction, with a fully openable front that doubles as a veranda and working space, while the roof can be winched to form a porch to protect from both solar rays and enthusiasm sapping rain.
Each BOSH Shed is easily identified by the bold range of colours giving each allotment cultivator the benefit of the same high standard of storage, working space and protection, whilst also giving the owner the sense of individuality that improves the experience and raises the soul.