Shed Building Monthly Dec 2009
Welcome to the December 2009 issue of Shed Building Monthly!


In this issue we announce the winner of this years Shed Design competition.
Before the winner's name is revealed I would like to thank all the participants in the competition. To give an idea of the range of entries, when the competition closed, we had 70 entries from 19 different countries, these included; Kazakhstan, Canada, Portugal, Indonesia, Bosnia & Herzegovina, Belgium, Poland, India, United States of America, Israel, Netherlands, Germany, Serbia, China, Italy, Taiwan, Philippines, Singapore and the United Kingdom.
The entries ranged from designs such as
The Gem Shed
by architect David Hingkamp that has been successfully executed to designs such as
The Morphing Shed
by Felipe in Chicago that were very conceptual.
I took the decision to publish all entries as long as they satisfied the basic design brief. With the range of different cultures and perspectives participating, who was I to limit the creativity of those entering the competition? The practicalities of executing some of the designs did get suspended from time to time but then when designers get excited they often help to push the envelope of what is a shed?
Anyway, enough of my ramblings, when the votes were counted at midnight on 30th November 2009 the Open Office Shed by Kenny Van Den Berghe was the clear winner with 26% of the 539 votes cast.
My congratulations to Kenny on a great design which was very well presented. Traditional in
many respects and very buildable. As Kenny highlighted "what makes the "OPEN OFFICE" really particular is the movable wooden panels placed on a railing system on the outside of the shed. These panels provide extra insulation and shading, privacy and intimacy. They also allow the user to create an infinite number of different atmospheres by simply moving them into different positions!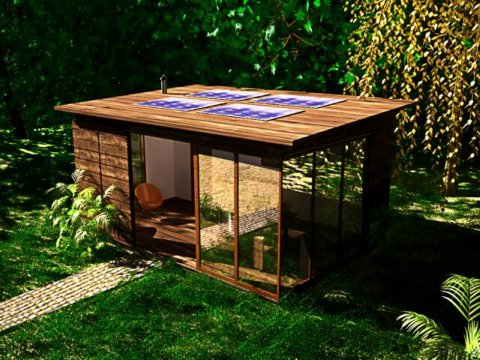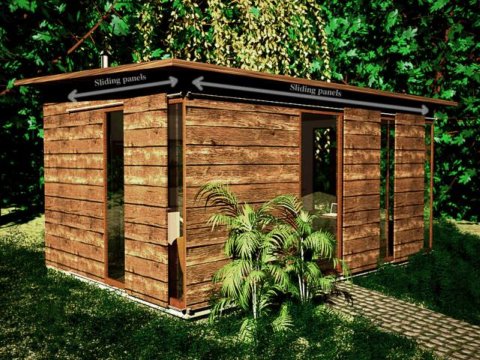 Kenny if you could drop me an e-mail we can work out the best way to get the Ipod-nano to you whether you are at your studies at the Florence Design academy in Italy or at home in Belgium.
Also if any of the other ten finalists would like to contact me I will arrange for a finalist certificate to be sent that you can hang on your office wall in pride of place.
To all the other contestants thank you for your entries and for taking part. Please keep in touch with me through this ezine.
Some news that you will be pleased to hear is that as a result of the success of this competition I will be running another competition starting in early Spring of 2010, culminating with the announcement of the winner during an important shed event during in the summer.
Please use the comment form below to:
Offer your congratulations to Kenny, this year's winner.
and
Offer your suggestions as to what type of shed you would like to be the subject of our next competition
See you in January
John
Click here to read or post comments
Return to Shed Design Competition.
My place to relax
by Giovanni
(San Jose, Ca, US)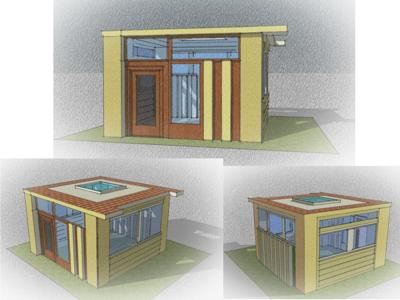 Relax Office Shed
You choice what you like it can have everything inside and outside you tell the design works with everything as a studio, office anything its a relax place to hang out.
Click here to read or post comments
Return to Shed Design Competition.
THE_SHED
by Chuck Witmer
(Silver Spring, MD)
THE_SHED
The need for a woodshop/painting studio was unavoidable once we bought our own house and our family began to grow.

I was building furniture out of our finished basement until we decided that the saw dust in the ducts was not the best for our lungs.

My wife was painting out of the 3rd bedroom until we had our first born Eli which required the need for her space to become a guest room.

I designed this accessory building to achieve the space necessary for the continued success of my wifes painting career and the passion to design/build and make furniture.

www.scalehousedesign.com

http://www.flickr.com/photos/cwitmer/sets/72157612251007118/
Click here to read or post comments
Return to Shed Design Competition.
The Studio Shed - (A response to the fallen economy worldwide and current housing market)
by Jack Hassall
(Croydon, London, England)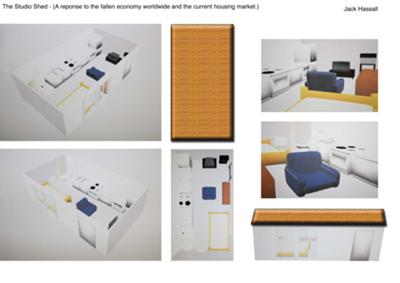 Interior and exterior of studio shed
With the state of the worldwide economy, there are many people worldwide who are having to down size their homes, also for first time buyers looking for somewhere to get on the property ladder. This shed is also the perfect way for people who own sheds to make money as they could rent or even sell their own sheds fully furnished as a place for people to live.

I feel that this idea would be a great way to help the economy to start bouncing back. For years the world has had small properties available such as studio flats, studio apartments so it makes perfect sense that people refurbish their sheds and give a new angle to the market.

Sheds into homes - people letting their sheds out as homes for steady income.

People selling their sheds for a decent sum of money.

Shed interior - Smallest sized domestic appliances and furniture, there should be the most amount of necessities as physically and legally possible.

Shed prices - Sheds can come in many shapes and size, some very sizable and others not so large, so I believe the price will purely depend on the size and space available in the shed. Pricing could possibly be done as a relation to how similar sized apartments and flats are priced.


Click here to read or post comments
Return to Shed Design Competition.
The Second Best Shed!
by James
(Atlantis)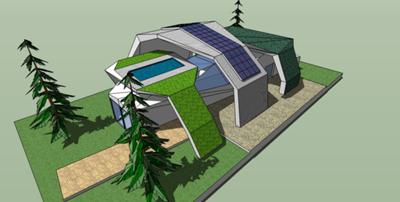 Groovy Shed!
Almost Amazing!
Click here to read or post comments
Return to Shed Design Competition.
HomeWorks
by Gareth T. Dunn
(College Station, Texas, USA)
Plan & Perspective
HomeWorks are an independent office space suitable for any work at home professional.

This facility is less than 250 square feet yet has ample work space including equipment room (copier, printer, file cabinets, etc), half bath and kitchenette area.

The user would not require any of the main house functions during their workday meaning time spent in the HomeWorks shed would be productive. The work area has plenty of built-in office furniture, relaxing lounge area and plenty of natural light which is controllable with the exterior rolling shutters. In Addition, the rolling entry doors also allow for additional natural light and ventilation when weather conditions are favorable.

The equipment room and half bath are accessible via a few steps and have operable skylights for daytime illumination and natural ventilation. The kitchenette, with under counter refrigerator, microwave and sink allow for easy preparation of the morning coffee and lunchtime snack.

This HomeWorks design basically takes your city center office, removes the non-essentials and places itself efficiently and attractively in your back garden.
Click here to read or post comments
Return to Shed Design Competition.
ECO Traveler - Office on the road
by Andrew Scherr
(Florence, Italy)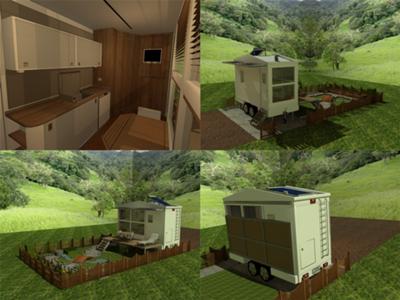 The ECO Traveler concept is a shed office on wheels, specially designed to be towed by a car, van or pickup by means of a bumper or frame hitch. The ECO traveler provides all the comforts and necessities of an office while on the road.

The explicit goal is to demonstrate the possibilities of green energy sources. This is a contemporary and creative design that includes a variety of renewable energy sources combined to match your needs while protecting the environment.

It is fully insulated and made with recyclable, reusable and light weight/durable materials. The exterior is made with lighter colors to reflect the sun's infrared rays back into the atmosphere and thereby allow a cooler interior and lower energy bills. A removable porch is added to add the possibility for spending time outside.

Below is a rundown of the features:
-CHASSIS: Uses 30% to 100% recycled materials.

-EXT. WALL:Recyclable aluminum with natural insulation

-WINDOWS: tempered and tinted Low-E dual glazed glass

-ROOF: incorporates rain water collection.
-PASSIVE WATER HEATING: Evacuated Tube Solar Collectors

-NO WASTE DUMB: Collected in tanks hidden under trailer.

-ELECTRICITY: PV panels, stored away when driving.

-INTERIOR: compost toilet, foldout bed, sliding doors, fully-equipped kitchen, 12-48VDC/220VAC Circuits, satellite TV, LED flat-screen TV, LED illumination etc.

Click here to read or post comments
Return to Shed Design Competition.
MORPHING SHED
by Felipe
(Chicago, IL)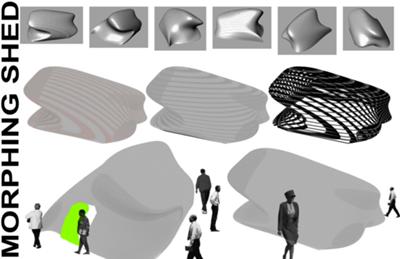 The typical shed seems to be a rigid element for storage. With the development of 3D modeling software the varieties for new typologies are to be explored.

The Morphing Shed is an experiment to explore new modeling techniques of a sphere and morphing it into an organic element that could be a design process to evolve the traditional shed. With that said, this shed is meant to represent a new typology for the shed. One that separates structure and skin. It is also meant to prove that with new technologies in the architecture field one can manufacture the structure of the shed in places that contain laser cutters and CNC machines such as IaaC is exploring. This makes the shed inexpensive and possible to construct with such complex forms.

The skin would be picked at choice by the constructor and give it individuality and personal taste.

With technology today, one can develop any form for a shed and calculate the structure for it and morph it according to its function.
Click here to read or post comments
Return to Shed Design Competition.
The Distingui Shed
by John Perkins
(Farnsfield, Nottinghamshire, England)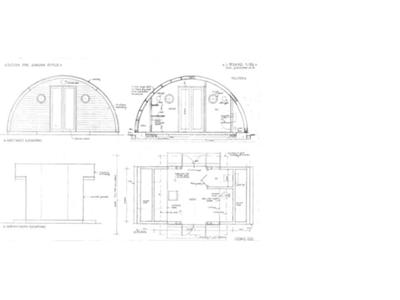 The aim is to provide a stylish, comfortable, safe and practicable working environment that is still essentially a garden shed. A place to work uninterrupted with every facility to run an efficient business from home.

The special features of the design are:

- sectional construction
- shed sized to suit one person's minimum space requirements but easily extended if space allows or business expands
- insulated double skin construction provides a warm, easily heated space in winter and cooling in summer
- basic facilities built in for comfort breaks
- designed to avoid glare at work station
- internal surfaces are easy to clean and hygenic
- can be finished in a choice of materials and colours to either blend in or stand out as required
Click here to read or post comments
Return to Shed Design Competition.
Nature Secret base
by htjgoo01
(R.O.C Taiwan)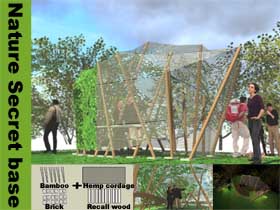 Nature Secret base
At how do future people co-exist with nature
This will be an important topic.
Have to just provide 1 and don't need to cause the
burden structure of environment.
In this respect the ecosystem space..Learn

It is the person and others' chapter of the soul
symphony~

May.......It can give you my next together of memory.
Recall..The foundation of this Secret base
Click here to read or post comments
Return to Shed Design Competition.
junk art
by sriram
(chennai,tn,india)
The design incorporates recycled building materials like concrete sewer pipes main working area , rubber sheets for flooring , glass bottles that makes the light dance on surfaces for windows . it has green roof.. and creepers.

It has adjacent large multi-purpose space that has a louvred wall that allows controlled light. automatic solar louvers that shifts its angle according to sun

The concrete sewer pipes form a module that can be repeated or altered & cost effective...

It's an architecture\art studio that forms perfect blend with nature....
Click here to read or post comments
Return to Shed Design Competition.
The Gem Shed
by David Hingamp
(London)
The Gem Shed in its closed position
The dry build structural solution (standard 100mm I beam steel profiles) were all assembled on site like a "meccano" in 1 week with very little disruption to the existing garden.

To reduce costs we decided to use standard internal bi-folding glazed partitions to enable a frameless finish to the outside of the building.

The 12mm toughened glass and acid etched panels glide open by just a light push and stack up on each side of the building. In the open position, the corner steel post is the only apparent structure; the seamless floors blend in and the shed becomes an open space and fully integrated to the existing garden. In its closed position, the glazing reflects the garden.

At night, the shed becomes a soft glowing feature and contributes to the whole garden experience.

Click here to read or post comments
Return to Shed Design Competition.
An atelier and a Laboratorium.
by Francis Van de Leest
(Belgium Vosselaar (currently living in germany))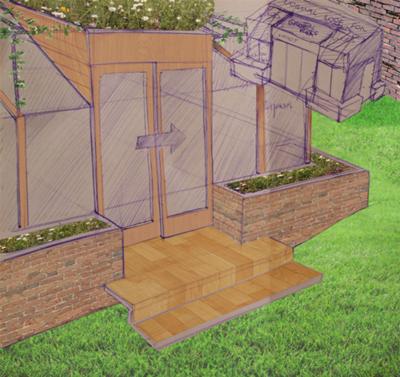 An atelier and a Laboratorium
My parents both are with pension (I'm from belgium, so my english will sound strange somethimes, I'm sorry for this

My mother has been a housemother for a long time now and she paints. My father has been a theoretical chemist for all his live. Since I'm the last child to fly the nest, the house is empty now. Enough space to practice all+ the hobbys you would think.

But the house is a little dark, and the dark rooms are not ideal to paint. And since my father still experiment with a lot chemical stuff (and with plants, my parents are both garden enthusiast, father for fruit and vegetables, mother for flowers and wildlife) They wanted a new shed/atelier/laboratorium/greenhouse in the garden which can be aimed south if it's build against a wall that already is in the garden.

The roof would consist of three parts. A piece of green roof, maybe with wather plants in it, to act as a kind of natural climate control. Large windows to catch a lot of sun in the winter. But with a iron rack above the angled windows where a vine has got to grow. No Ivy. The purpose of this vine is to block the most of the sun from the angled windows. In autumn it loses its leaves, and the sunlight can flow in, so the shed can heath up.

The part closest to the wall will be a normal asfalt roof, This to catch some rainwater to water plants.

In the middle of the shed would be a large sliding door so these doors can open in summer. In the inside under there would be a table at the left of the sliding door for the experimental activities, at the wall side a rack for plants and things. The other part of the shed would be used to paint and sculpt (and other creative activities with grandchildren).

At one side there would be a small door to enter, so in winter you don't lose to much warmth.
Heating would be done with a mixture of compost heating (a lot of compost in their garden, and with a wood stove. I'm not quite sure how the wood stove and the compost heating would be implemented, But I'm working on it. And I hope to upload it before the deadline passes.
Click here to read or post comments
Return to Shed Design Competition.
FACE TO FACE
by ZHU LIN
(Bejing,China)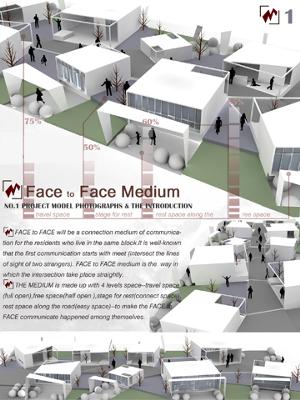 FACE TO FACE
A OFFICE WITH 4 KINDS OF SPACE USED AS OFFICE,COMMUNICATION,ENJOYING PERSONAL TIME,AND PASSAWAY.
A NEW WORKING STYLE IN THIS OFFICE TOWN
A FACE TO FACE OPPORTUNITY FOR CLIENTS HERE.
Click here to read or post comments
Return to Shed Design Competition.
HANGING GARDEN
by Hitesh kamdar
(Supernova Design studio,Delhi, India)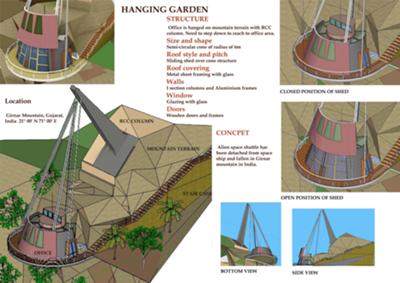 ALIEN SPACE SHUTTLE
HANGING GARDEN

Concept
Alien space shuttle has been detached from space ship and fallen in Girnar mountain in India.

Description

Surrounding environment always plays an important role for any designer to think freely. Considering the fact I imagined a place for my garden office which is in the laps of mountain terrain. Environment around me, with a great panaromic view increase my imagination power to think for my various design project out of traffic noise and pollution and achieve great success with every project which I handled within my office.

Location
Girnar Mountain, Gujarat, India 21° 00' N 71° 00' E

Structure :
Office is hanged on mountain terrain with RCC column.
Need to step down to reach to office area.

Size and shape
Eliptical cone have radius of 6m

Roof style and pitch
Sliding shed over cone structure

Roof covering
Metal sheet framing with glass

Walls
I section columns and Aluminium frames

Window
Glazing with glass

Doors
Wooden doors and frames


Click here to read or post comments
Return to Shed Design Competition.
Panoramic View Office
by Ignatius
(Bangalore, India)
A simple design that lets in lots of fresh air and natural light and immerses you in the natural environs of your garden. Inspired by the gazebo-style structures often used by writers and artists to get their creative juices flowing.

The large windows give the feeling of an expansive space while the office itself remains cozy and practical. In warmer regions the windows and doors would be made of wire-mesh to let in air, while colder regions would use glass sliding-windows and doors to keep the cold out.

Break the monotony of office work and enjoy the sights and sounds of your surroundings. Beats working in a cubicle!

Click here to read or post comments
Return to Shed Design Competition.
Garden Shed Garden
by Bill Badrick
(Portland , Oregon , USA)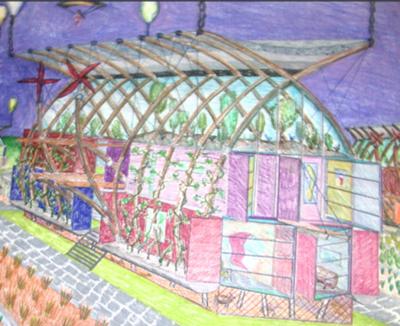 garden shed maximus
The shed is based on a shipping container
stack , and is meant to be home to a generous garden. It has internal winter gardens , rooftop garden rooms , and sub-grade piggy/sheep homes. The bowing roof structure creates trellised side planting spaces , and the roof captures water for the many plants. It has Balloon -Supported Wind Turbines for power and light , and well , they are fun too!
Click here to read or post comments
Return to Shed Design Competition.
The Best Shed!
by James
(Ninjaland)
Amazing Shed!
Simply Amazing!
Click here to read or post comments
Return to Shed Design Competition.
Studio Shed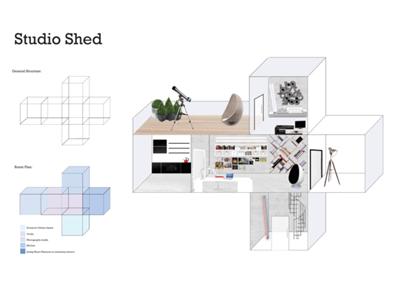 This modern shed is designed to accommodate a running design studio. With plenty of space and natural light it is an inspiring and practical place to work and is catered to the needs of a designer working long hours - being equipped with social and relaxing areas as well as plenty of studio space.

The shed is designed with the front completely made of glass allowing large amounts of natural light to fill the space. Natural light endorses our vitamin D levels making us feel happier and energised, and if working in a studio all day it is even more important to have as much natural day light intake as possible. It is also environmentally and economically friendly.
Click here to read or post comments
Return to Shed Design Competition.
My Small Office
by Debasish Sarkar
(S-37, SPA Boys Hostel,Taimoor Nagar,Maharanibagh,New Delhi-65, India)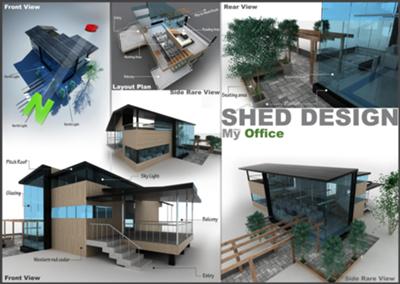 Shed Design:
Design title: My small Office.
Design Philosophy: I designed a very small office with higher daylight factor. By providing eco glass glazing on north façade I tried to achieve more daylight inside my working area and also try to maintain the transition between nature and space. From inside you don't fill like you working inside a box and there is no visual barriers can't stop you from enjoying the nature which is very important for a creative persons like Architect or a Graphic designer. Site like garden or forest is ideal for this kind of design. Day light provides more energy and it is refreshing and sustainable.

Click here to read or post comments
Return to Shed Design Competition.
"Unhinged" Garden Office
by Luke Andritsos
(Toronto, ON Canada)
Garden Office "Unhinged"
Unfold your workspace into a lawn under the blue sky: all you need is a laptop and some appropriated nature.

When folded the shed is naturally ventilated- air is cleansed through plantings contained and nurtured in the recycled exterior plywood sandwich panels. The cedar shingle cladding is naturally mold and moisture resistant and provides a durable sheathing over the airspace below.

When "unhinged," the Garden Office forms a green extension for dreaming, a platform for working and a projected space injecting work with delight...

L A 2009
Click here to read or post comments
Return to Shed Design Competition.
Sculpture Shed
by Arun Lal
(UK)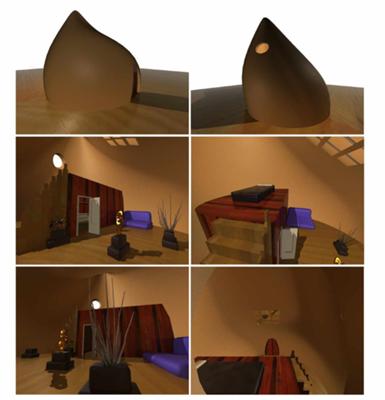 Sculpture Shed
My shed is very personal to me. I see the shed more like a Sculpture that occupies real space like we do; you walk around it and relate to it almost as another person or another object.

Inside of my shed I have a small studio where my three dimensional artwork begins often through rocks or findings which involves carving, moulding and assembling.

As soon as I walk into my Shed, I'm just thrilled to see my artwork with my very own private exhibition space.

When I feel drowsy I walk up to the stairs into my bed. I don't have wardrobes or closets because I refuse to acknowledge any interest than the object of my attention.

The large round window allows passage of light. The mirrors on the ceiling allows the light to express the face of my artwork. I'm still able to see the sculpture through the reflection from the mirrors whilst I'm in bed.


Click here to read or post comments
Return to Shed Design Competition.
Young Architect Dream
by Lina
(Oskemen, Kazakhstan)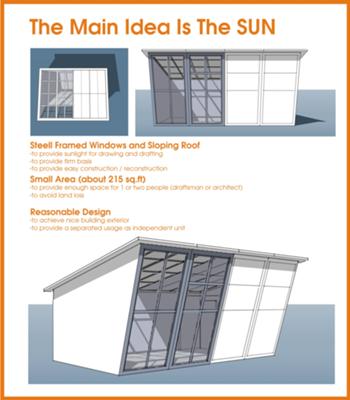 The main idea of this design is to provide enough space both for storage architectural stuff as abnormal amount of paper, pencils, rules etc., and for drawing also.

The construction volume is really small, but the result looks nice due to the usage of steel constructions and glass.


Click here to read or post comments
Return to Shed Design Competition.
Office Shed
by Debasish Sarkar
(New Delhi)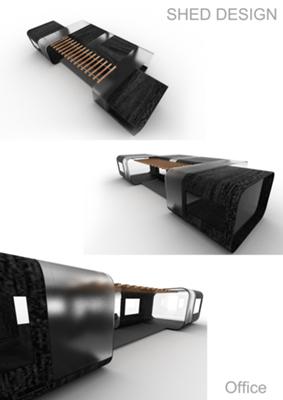 Modern Shed..........
Click here to read or post comments
Return to Shed Design Competition.
Super Shed
by James Hall
(Salt Lake City, Utah, USA)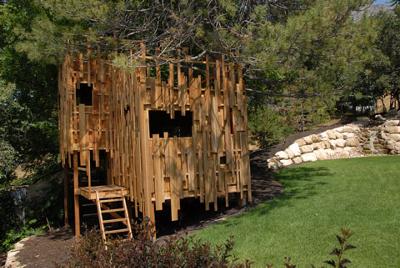 The Super Shed is full of special features.

It sits higher off the ground to provide the inhabitants with better site lines and natural ventilation.

It has a second skin that mimics the bark of the tree that shades it, and provides an extra layer for thermal and moisture protection.

It has a flat habitable roof with an interior sloped membrane that drains water creating a dry interior.

The shed has two volumes that provide numerous configuration possibilities, and the roof provides a beautiful space to relax and enjoy the surrounding nature.
Click here to read or post comments
Return to Shed Design Competition.
GREEN Office
by Andy Fett
(Sioux Falls, SD, USA)
The "Green Office" has several characteristics that make it viable as an indoor/outdoor office retreat. It responds well to its garden context and successfully addresses issues of sustainability. The form of the structure is derived from the idea of "threshold"; treating the structure as a transition between contexts.

The Green Office is intended to be a place to work from the home, free from distractions. The challenge here, however, was to make the structure part of the garden. The Green Office accomplishes this by incorporating a green roof, a reflecting pool, and a trellis. These elements do not serve to eliminate the distinction between structure and landscape. Rather, they blur the boundaries, allowing the Green Office to become a sculptural piece and a threshold within the garden.

The structure opens up to the east and west. This allows the trellis to shade the south facade. The concrete wall on the north also provides protection from cold winter winds. The West facade opens to the garden visually. A four panel Nana-Wall system, can be closed or opened depending on the season. Both the
south and north facades are constructed of concrete. Although concrete loses some value as a sustainable material, the thermal advantages are incredibly valuable. The roof projects out to the west slightly to shade most of the summer sun. The winter sun is allowed to penetrate the office, and the concrete serves as thermal massing. The concrete also mitigates heat gain in the summer

The green roof helps the structure blend with its context, but it also prevents the heat island effect and serves as insulation. Wood decking and structural cedar columns are used to compliment the concrete.

As previously mentioned, the form of the structure acts as a threshold. The Green office can be entered through a door on the East side. The building then then opens outward to the garden and reflecting
pool. A built in desk/storage unit provides adequate working space. For those who wish to proceed directly to the garden, it can be accessed along the south facade which funnels users into the garden.
Functionally, the funnel shape also catches prevailing summer winds from the southeast and pushes them out the east entry.

For those that are not interested in architectural jargon, the Garden Office is simply a well conceived idea. It is a place to work in the landscape, the cool summer breezes, or the dancing reflections of the
sun.


Click here to read or post comments
Return to Shed Design Competition.
The Chaotically Organised Shed
This fanciful shed was inspired by the organised chaos of the everyday shed.

Playing with the objects and the spaces between objects usually scattered around a shed, this flamboyant and exuberant architectural structure generates quite a surreal and phantasmagoric atmosphere, while inside each compartment can be used for everyday storage, working and playing.

The qualities of the environment in which you work, and in particular light, space and colour make a real difference to how you work, and how much you enjoy working, this colourful abstract design will guarantee an exciting and inspiring working environment.
Click here to read or post comments
Return to Shed Design Competition.
Water Design Studio
by Catherine Kim
(Shanghai)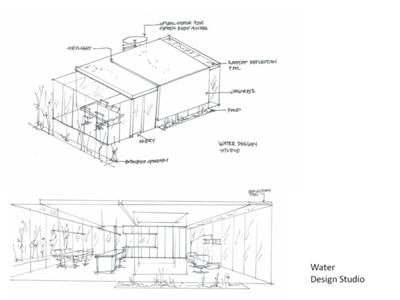 Water Design Studio
My shed is a design studio aimed to incorporate water and nature through visual and sound.

I find water in every form very therapeutic and by designing a shed made from concrete and glass, I am able to be surrounded by water from the rain as it falls on the glass rooftop and see it creating reflections in the shed from the pool above.

The translucency blurs the boundary from the bamboo garden and pond outside. There is also a green grass roof top accessed by a spiral stair on the side. In summary, it is a natural sanctuary for work, meetings, rest and reflection.

Click here to read or post comments
Return to Shed Design Competition.
A Garden Studio
by Ryan Spicer
(Fort Myers, Florida)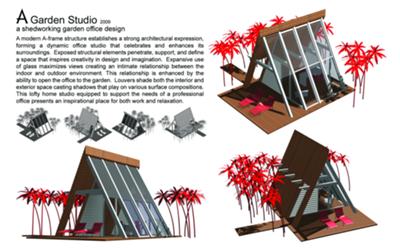 A Garden Studio
A modern A-frame structure establishes a strong architectural expression, forming a dynamic office studio that celebrates and enhances its surroundings.

Exposed structural elements penetrate, support, and define a space that inspires creativity in design and imagination.

Expansive use of glass maximizes views creating an intimate relationship between the indoor and outdoor environment. This relationship is enhanced by the ability to open the office to the garden. Louvers shade both the interior and exterior space casting shadows that play on various surface compositions.

This lofty home studio equipped to support the needs of a professional office presents an inspirational place for both work and relaxation.
Click here to read or post comments
Return to Shed Design Competition.
Super Solar Shed/Office/Cabin
by LaMar Alexander
(Roosevelt, Utah USA)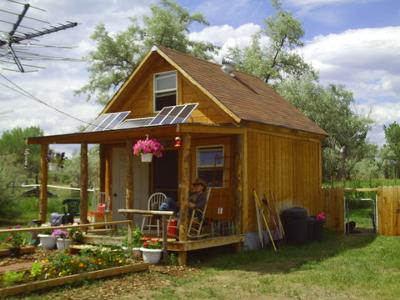 Solar Cabin
This shed/cabin was built from all new materials (except windows and doors which were recycled) for under $2000.

It is 14x14 with a full loft and approximately 400 sqft of space.

Downstairs is kitchen, full bathroom, dining and living area. Upstairs loft is bedroom, office and storage space.

I live in this cabin full time but it could be used for a great workshop shed, office, guest house, hunting cabin etc.

It is powered by a small 350 watt solar electric system for lights, water pump, tvs, laptop and gadgets.

I use propane for a fridge, stove, furnace, and OD water heater.

All my appliances were recycled from an old camp trailer and cost nothing!

This shed design would be great for a workshop where no power lines are available or wanted or can be used for many other purposes.

Additional info and videos are available at:

http://www.simplesolarhomesteading.com

LaMar Alexander



Click here to read or post comments
Return to Shed Design Competition.
OPEN OFFICE
by Kenny Vanden Berghe
(Belgian studying at Florence Design Academy, Italy)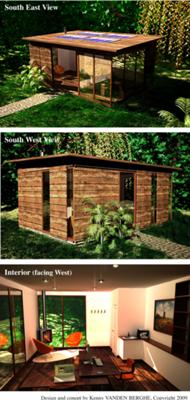 OPEN OFFICE SHED
The "Open Office" shed is divided in 3 areas: a living/meeting area, a working area (a modular desk for up to 3 people, storage etc.) and a utilities area (coat-hanger, bathroom, sink, coffee machine etc.)

Besides offering a great view and creating the feeling of working outside, the big windows allow to save a lot of energy in terms of lighting, and heating during winter. Thus reducing the carbon print and the electricity consumption. There are no windows on the North side for higher isolation against the cold Northern winds. The solar panels on the roof supply the shed with the energy required for lighting and electrical appliances (computers, coffee machine etc.).

A water-tank is installed on the Northern side (for aesthetic reasons) to collect rainwater used for the toilet and the bathroom sink.

Furthermore the "OPEN OFFICE" is equipped with a wood-burning stove which creates a nice and cosy atmosphere, and provides cheap and natural heating when required. Its position is strategical as it allows an optimal circulation of heat in the entire shed.

But what makes the "OPEN OFFICE" really particular is the movable wooden panels placed on a railing system on the outside of the shed (cf. 2nd picture). These panels provide extra isolation and shading, privacy and intimacy. They also allow to create an infinite number of different atmospheres by simply moving them in different positions!

The "OPEN OFFICE", by the choice of its materials, is relatively cheap, secure (for files, computers etc.), fast to assemble, resistant to time and weather conditions and very ecofriendly!

Materials:
Concrete basis ;
Wood boards assembled by match-boarding, attached to an aluminum frame (more resistant than a wooden frame) ;
Insulation ;
Plaster Boards ;
Double glazed glass ;
LED lamps for lighting (very low consumption) ;
Solar panels ;
Water-tank ;
Alarm system.

Kenny Van den Berghe

Click here to read or post comments
Return to Shed Design Competition.
Beach Bunker /
by Tim Erdmann
(Germany, Hamburg)
Beach Bunker /
beach bunker /
The shed based on the old beach bunkers in France and Denmark. it is a place to be on your own after a hard work day. You have the chance to back out and relax.

The design of the bunker illustrates the ergonomics of the landscape - the bunker fits into the landscape and seems fully integrated. the construction based on a concrete structure which reminds you of the typical tetrapods on islands taken for coast protection.

Click here to read or post comments
Return to Shed Design Competition.
shed@greenhouse
by Aza Summers
(Honokaa, Hawaii)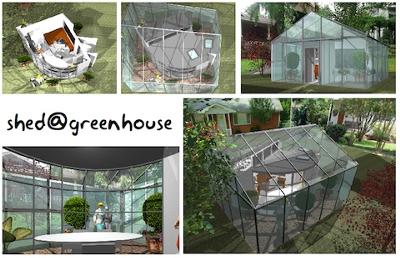 shed@greenhouse
On the most basic level, we build a shed to provide for a use that needs to be shielded from or interfaced with the elements - rain, snow, wind, sun, flying and crawling organisms or other natural stuff - and should be designed to provide a suitable environment for the intended use. If you want to provide an environment that is habitable, then you will need to consider lighting, ventilation, heating or cooling, views, and other personal requirements, along with these extreme climate conditions.

The shed@greenhouse concept proposes to provide a solution to your particular needs by articulating each sheltering element, and then selecting appropriate options. It is a "two skin" solution - an outer greenhouse "skin", and an inner shed "skin". You could make your vegetable garden in between, in the greenhouse area.

The greenhouse "skin" can be adjusted to control wind and insects, and the UV, intensity, color, or other aspects of the natural light from the sun, while allowing light, views, ventilation with screening or filtered air intake. This provides a modified environment for your shed.

Your shed "skin", inside the greenhouse, can be designed to further ameliorate your environment, providing privacy, shade, heat and sound insulation, or views out as desired, and will not ever be rained upon, thus adjusting easily to the modified environment supplied by the greenhouse.

Your shed could be built with virtually any suitable material and would not need to shield your environment from extreme conditions. As long as it is structurally suitable, your shed can take on any shape or character you like, inside the greenhouse environment. The example shown is an office with curved windows, clerestory windows and skylights over dark spots. Insert your own shed fantasy here.

The greenhouse space between your "shed" and the real world could be inhabited by carrots, beans, lettuce and birds.



Click here to read or post comments
Return to Shed Design Competition.
Architect's garden studio
by Jelena Sucur
(Bosnia and Herzegovina)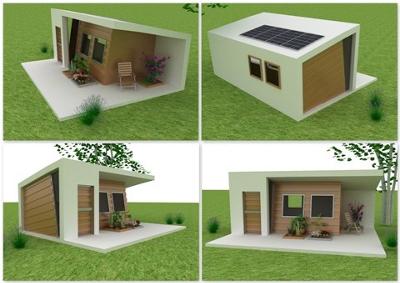 This shed is designed as a place that allows a young architect to enjoy working on various projects, a place that is more than just a garden office...it is a place for work, hobbies, fun, relaxing, reading, connecting to surrounding nature,...and due to its contemporary form and solar panels-an architectural statement as well.

It is a shed that represents a sanctuary for architecture, an inspirational and motivational place for an architect, and a storage for all kinds of architect's tools, books, magazines, photographies and similar stuff. It is a place that gives you the opportunity to concentrate on your projects, your creativity and your inspiration and to escape from everyday stresses.
Click here to read or post comments
Return to Shed Design Competition.
Sustainable Design Studio Shed
by Jeff Fletcher
(Austin, TX)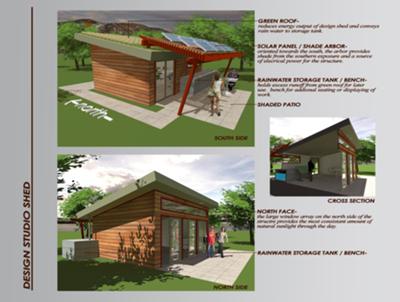 SDS Shed
The Sustainable Design Studio Shed is designed to utilize basic eco-friendly concepts and materials to create sustainable space. Rainwater collection, Green roof system, solar arrays and spatial orientation help produce a place that minimizes energy costs and treads less on the natural environment.

The green roof is irrigated with rainwater. Any excess runoff is collected with in the concrete bench on south side of shed for later use. The solar array system produces power for the shed. In addition, it doubles as a shade structure for the patio space beneath at the south side of the shed. A large array of glass doors and windows face the north in order to capture the shaded light. This provides the most consistent daylight though the day and minimizes daytime power usage.

Click here to read or post comments
Return to Shed Design Competition.
3 IN 1 Shed
by Lee,Talya, Steph
(London, UK)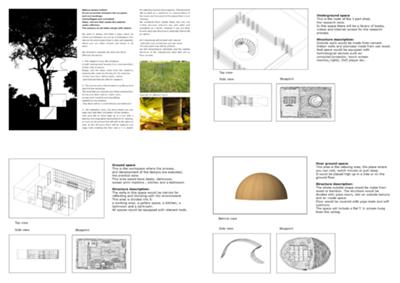 3 IN 1 Shed
Nature versus Culture
Direct encounter between the occupant
and surroundings.
Camouflaged and concealed.
Glass -mirrors that masks the exterior
walls reflection.
The scenery on all sides merge with nature.

We want to design and build a place where as artists and designers we can go and disappear into nature! An environment that is calm and peaceful, where you can either relax and sleep or do work.

We decided to separate the shed into three
different structures:

1. The research zone, this structure
is built underground because it is a representation
of the roots of nature.
Design and Art ideas come from the research, meaning the roots are the key for the outcome.
In this area there will be books, videos
and Internet that are vital for research.

2. The process zone, this structure is on the ground and it is the workshop.
The area that you develop your ideas and practice.
In this area there will be a dark room,
screen print machine and everything
needed for the creation.
Also there will be a small kitchen and bathroom.

3. The relaxation zone, the place where you can relax and rest after completion of the creation.
This area will be either high up in a tree with a balcony and large glass window/doors for viewing, or even on the ground but still will be the place to rest. In this structure there will be cushions and yoga mats covering the floor and a T. V. screen for watching movies and programs. This structure will be built as a waveform in representation of the ocean and the sound of the waves that is very relaxing.

We combined three similar ideas into one, the 3-shed structure interacts one with other and completes as a whole. However if you are likely to only need one structure in particular that is still an option.

All 3 structures will be built with natural
materials such as bamboo and oak wood.
The only parts that will be artificial
are the technological machines and the outside structure of the underground shed that will be from cement.


Click here to read or post comments
Return to Shed Design Competition.
Slat shed
by Lee Stubbe
(Bainbridge Island,Wwa)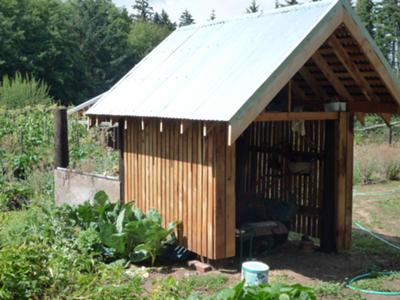 Slat Shed
The slat shed evolved from first constructing a compost platform and enclosure. I added two creosoted poles to the back side to complete the square for the shed. as this method wasn't even close to being square; I then had to improvise framing to add the roof. The sides/slats were added to provide an enclosure that would allow for air to move through. I store cedar poles and stakes for the garden inside along with my tiller.

It has an additional storage area above the roof platform for storing netting and additional garden supplies. Inside there is also a cat platform where my cats climb up a ladder to hide in the upper storage area.
Click here to read or post comments
Return to Shed Design Competition.
Home Office G2009
by Hojoon
(Edison, NJ, USA)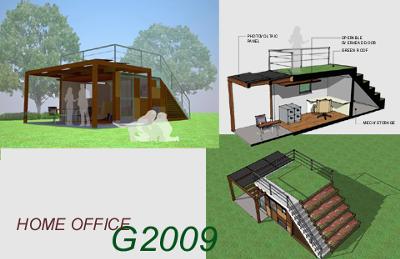 Home Office G2009
Concept is to design multi-functional green office shed considering affordable/feasible construction method.

10X12 shed is made out of wood construction w/ green roof, but not just roof, you may access to the top as useful space. The office has operable overhead door that can be opened in sunny day. Therefore, space let you interacting with nature while it provides your work space.

Operable Windows create natural ventilation. A pergola is covered by photovoltaic panels operating office electricity as self-operating space. I also thought plywood with polyurethane coating for shed skin. It is not only economical, but also last long time. O

f course, I hope this space would be your entertainment place, not just boring office shed.
Click here to read or post comments
Return to Shed Design Competition.
Emergency Shed.
by Eli Bowes
(London)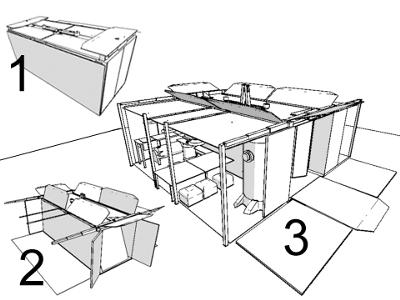 Shipping Container Shed
Essentially a modified shipping container. Folds out to be a home away from home, complete with power gained from solar panels, a table, chairs and even a radio receiver.


The 3 images show a transition from a hard wearing non-descript box (1) to a 'in motion' phase where the panels and supports swing easily into place (2) to finally a luxurious living space for home or on safari (3).
Click here to read or post comments
Return to Shed Design Competition.
Modern Traditional Shed
by Michiel
(Amersfoort, The Netherlands)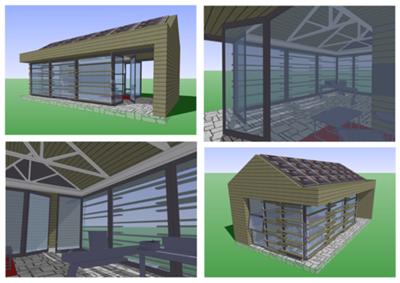 Modern Traditional Shed
The form is derived from a typical wooden shed and is adapted to up-to-date office demands. There is enough space for a toilet, storage space, a meeting area and a large desk.

The glass facade on the south side provides light to the inside and a view to the outside. The set back and the louvres provide shade. The covered entrance is a transition zone between the outside and the inside of the building.
Click here to read or post comments
Return to Shed Design Competition.
Traditional Grain Shed
by GreenBoy
(Hertfordshire)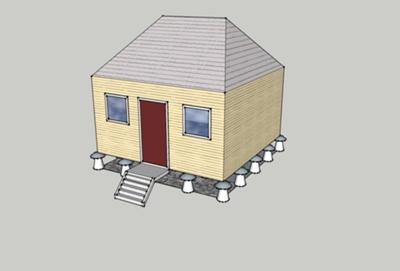 A mushroom shed - not!
As a boy I was fascinated by a shed I saw once that was built on top of stone mushrooms - the reason for this was to keep the rats out of what was a storage barn for food stuffs (grain, fruit etc)

I would like to build something like this for no other reason that it looks good, and to be some where to retreat to to listen to the rain on the roof.

I would also install a small wood burning stove in it just to take the chill off of it... cos I'm getting old!

Love to hear peoples comments on the practicalities of building such a beauty.

GreenBoy
Click here to read or post comments
Return to Shed Design Competition.
Nature's Shed
by Stanley Sun
(London, UK )
Inspired by the settings of my childhood backyard, this shed is strongly based on the site context and begins to blur the boundary between structure and environment. This shed design is for a visual artist. Someone who, on a regular basis, has changing levels of interaction with the environment; from full engagement by using it as a source of inspiration, to using nature as a source of disguise during times of introspective thought.

Inspired by the principles of a bird-watching lookout tower, we begin to take a closer look at structure in context. How do we create an aesthetic that visually minimizes the impact on the surrounding environment?

The three-tiered design functions for 3 different types of programming:

1 – The upper tier is a look out space. One that is 'public' as it is fully exposed visually and programmatically to the surroundings. The upper tier also becomes the entrance to the middle tier;
2 – The middle tier is a private space. Visually, it is 'hidden' from the surroundings through the use of an applied vertical green wall surface and minimizes the structure's, and therefore the user's, presence within the environment;
3 – The lower tier is a glazed area which creates a semi private space; one that allows the user to hide away from the upper walking path while still having full exposure to the surrounding landscape.

www.stanleysun.com

Click here to read or post comments
Return to Shed Design Competition.
Wheeled Field Office
by Aza Summers
(Honokaa, Hawaii)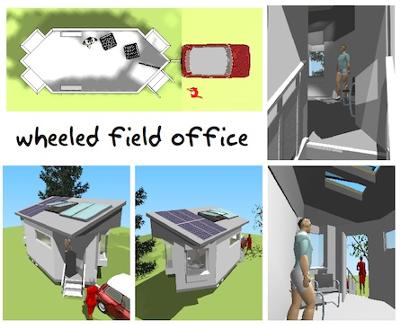 Wheeled Field Office
A self energized office on wheels, with PV and solar hot water panels and generous roof skylights, this office will go with you anywhere and is designed to be street licensed. A building permit may be required in some areas.

The interior may be customized to your particular requirements, and construction can adapt to unique local conditions and building materials.
Click here to read or post comments
Return to Shed Design Competition.
The Poop Box Shed!
by James
(The Great Beyond)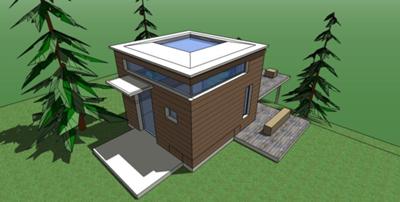 Oops, I just crapped my pants!
Imagine you walk into the space and you pee your pants with excitement.

Once in the space your cancer is cured by the cascading light that engulfs the space. You are in such awe and you hit your knees as if in the presence of All Mighty God. A tear begins to trickle down your cheek as your mind is now free of all clutter and pollution.

You crap your pants as you realize it won't get much better than this!

Welcome to The Box!
Click here to read or post comments
Return to Shed Design Competition.
Design Deckhouse
by Dayna Beck
(Ontario CA)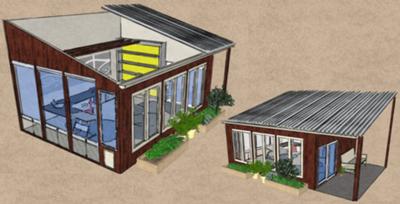 Design Deckhouse - Dayna Beck
Client:
A female illustrator who finds her inspiration for children's books from nature and the world around her.

Location:
East coast. Her shed will be located in the wooded area behind her home.

Dimensions:
16'6" x 27'

Key Features:
*Sloped roof collects water to hydrate exterior plants.
*Entrance is located on the north side of the structure, so the sun isn't intense in the afternoon.
*Open rafter system creates visual interest as well as storage space.
*The floor to ceiling windows on the north side of the structure create a panoramic view.
*A small doggy door is located on the right side of the north wall.
*Built-in bookcase lines the south wall for supplies.
*Flooring is made from reclaimed tile.
*The blue jute rug in bubbly shapes is made from renewable resources.

Additional Notes:
*Because the shed is located in a wooded area, privacy is not an issue.
Click here to read or post comments
Return to Shed Design Competition.
NOT A BOX
by Fernando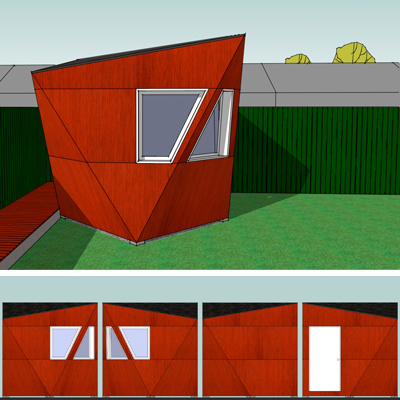 This garden-office shed is designed to create an interior space and exterior image that are contemporary and innovative, to provide adequate work-space with little square footage and to sit well at a typical location at the corner of a back yard. It's built using wood-frame construction and includes a built-in desk.
Click here to read or post comments
Return to Shed Design Competition.
modular-minimal-space shed
by AW
(Germany)
modular-minimal-space
The intention is to design a functional, modern shed as a "small office", for a young business starter.

By using prefabricated-basic-modules the costs should be quite low and every owner gets the opportunity to arrange his own, individual shed.


Click here to read or post comments
Return to Shed Design Competition.
Box Office
by Ryan Spicer
(Fort Myers, Florida)
This home office studio will have you thinking outside the box.

Inspiration to create and design can be found not only in the structure but in its relationship to its surroundings.

Lofty ceilings lighten the space and exposed beams draw you to views of the garden. The expansive use of glass creates an intimate relationship between the indoor and outdoor environment. Sliding doors allow the studio to be opened to the garden. Louvers shade both the interior space and exterior decks while screen walls allow for privacy without sacrificing garden views.

Whether inside or outside the simplistic design of the Box Office is equipped to support the needs of a professional and provide a calm and relaxing garden studio in which to work.
Click here to read or post comments
Return to Shed Design Competition.
Urban Shed - Garden in a box
by Daryl Robbins
(Aberdare)
Daryl Robbins
As cities continually grow the idea of having a garden will soon be a luxury. Having a garden shed will be a gift. So what if you live in a city and have a garden shed. . . .well I guess first you would need a garden. Why not have both.

The urban shed, a place to sit and enjoy the sun, wihout the hassle of mowing the lawn. The small piece of Oasis could live on the roof of a five storey concrete brutalist masterpiece and be that small peice of contemplation space needed in the fast pace of the city.

It may not be soundproof but has space to store the tea/cocktails chairs to sit and enjoy the views and a wind shield to help moderaste temperatures.

All made from recycled panels of timber and thin steel frames, not too distant from the shelves you find in supermakets. The grass panels which have a lattice design would allow for samll amounts of grass to grow horizontally and vertically and the translucent louvred windbreak will act as the light source and ventilation for photosynthesis to take place. Adaptations could be made to suit the user with possible flowers replacing one of the table panels .etc
Click here to read or post comments
Return to Shed Design Competition.
simple shed
by rizki
(jakarta, DKI Jakarta, Indonesia)
This is build for small office and it's inspired by post box in my country
Click here to read or post comments
Return to Shed Design Competition.
Earth Shed
by Victor Melnikov
(Chicago, USA)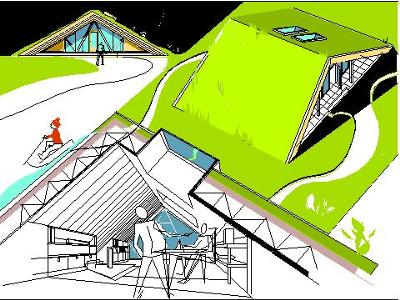 Earth Shed
There is already too little space left around an average suburban house.

Earth shed is not a separate building, but a part of the landscape.

Standard triangle elements with sides serving as roof trusses and bases - as a floor joists are placed parallel to each other to any desirable length. The earth roof becomes a continuation of a landscape.

Minimum exterior cladding materials.
Excellent natural insulation in warm climates.
Natural draft ventilation.

Click here to read or post comments
Return to Shed Design Competition.
House of Doors
by Lloyd Alter
(Toronto Canada)
House of Doors
Doors are ubiquitous, and come in solid, screened, windowed, whatever. I designed a frame around standard door sizes, so that anyone could erect the frame and fill the openings with whatever they wanted, giving them a huge range of choices in what they wanted their shed to be made of. Four doors would be fixed to give it stability; others would open, close, be screened, whatever, there are as many options as there are doors.

I have lost the original Sketchup model but animated its assembly and saved the video here:

http://www.youtube.com/watch?v=ymSdA42j7Hw


Click here to read or post comments
Return to Shed Design Competition.
Zen Place
by Jiankai
(Singapore)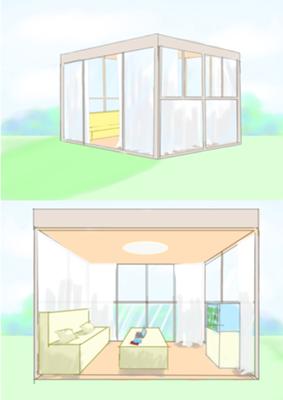 Zen Place
A minimal style shed made of woods and glass. With all the curtains drawn back, the interior space of the shed is connected with the beautiful scenery outside.

A secret garden just for you. Hope you enjoy it.
Click here to read or post comments
Return to Shed Design Competition.
My Garden Office
by Debasish Sarkar
(India)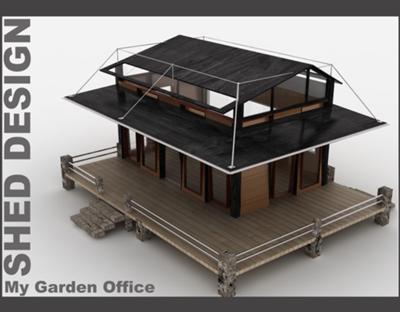 Garden Office
The Concept:this design is a fusion of Contemporary and Modern Architecture..........and also try to add some more day light by providing long window and skylight on the roof and wall.and I hope it is a very simple design with some good space..........
Click here to read or post comments
Return to Shed Design Competition.
Art Shed
by Milos Todorovic
(Belgrade, Serbia)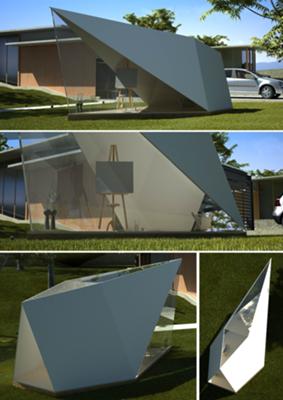 The Art Shed
Art shed provides peace and quiet for artists. It allows them to seemingly paint outdoors, even on bad weather. It has big glass surfaces which provide plenty of light. Glass roof is optional and it can be covered. Art shed has modern design which encourage artist to work.
Click here to read or post comments
Return to Shed Design Competition.
A shed for Him and for Her
by Mythily Kunasaraga
(Singapore)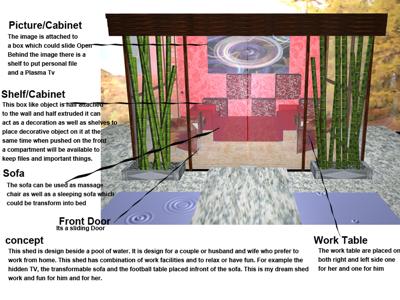 Shed for Him and for Her
This shed is designed near a pool. The basic idea is to create a comfortable work space for a couple who prefer to work from home. This shed has few feature that can make the environment look as a perfect work place as well as a place to relax and have fun. This shed is created to show work and fun could always be balanced.

The material used is glass, wood, solar panel and concrete. The main feature would be the transformable sofa which could be used as massage chair as well as sofa bed. And the hidden shelves and cabinets which makes the minimilastic space requirements.
Click here to read or post comments
Return to Shed Design Competition.
The Solar (powered) Shed
by Ryan Trullinger
(Gothenburg, NE USA)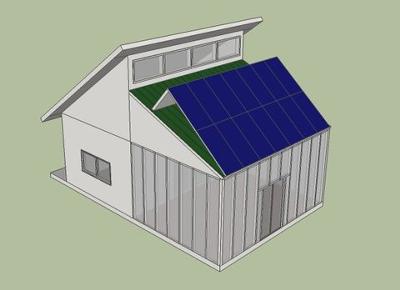 The Solar (powered) Shed
I designed this shed based on Eco-Friendly techniques. Some of the materials are recyclable, for example the aluminum framework for the greenhouse portion, which consists of 2X4" rectangular tube for the "studs" which are on 24" centers instead of 16" centers(there by reducing material costs). The only exception is I used 4X4" aluminum tubing for the outside corners.

The structure is placed on a concrete slab that is 8" thick, this increases the thermal mass for passive solar heating. The slab is covered with quarry tile (also known for its passive solar heating storage characteristics.

The north section (the dark side)is made up of standard 7" stud walls with the studs again on 24" centers.
All the windows and doors in the north section are high efficiency composite material design.

Clerestory windows in the upper south facing wall provide additional natural light, and can be opened for ventilation.

Lastly the structure should have ample power for lighting ,ventilation, and overall power needs. The PV array on the south (greenhouse) area roof is capable of producing 2800 watts at 24 volts dc.

The intended use for this shed is work and play, as a design studio/home office, and of course a greenhouse.
Click here to read or post comments
Return to Shed Design Competition.
X CUBED: Re-Examining the Cubicle
by Aaron Anderson
(Urbana, IL)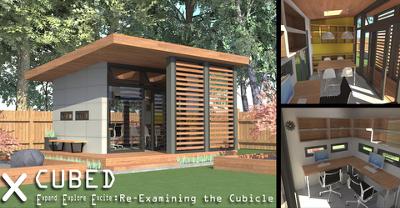 X CUBED: Re-Examining the Cubicle

Expand

Expand the perception of an office.

Explore

Explore the possibilities.

Excite

Excite the senses.

A garden sculpture and office all-in-one, X CUBED seeks to redefine the notion of what an office should be. Integrating "green" technologies including solar PV panels, natural lighting and shading, and thermal massing, X CUBED reexamines the typical cubicle and relocates it to your backyard. X CUBED provides a healthy, relaxing, escape from the typical work environment.


Click here to read or post comments
Return to Shed Design Competition.
Contemporary California Shed
by Stephen Strugala
(Long Beach, California)
The Contemporary California Shed design was inspired by the architectural language and location of the United States west coast while considering the practical needs of the garden office shed.

The shed contains sufficient flexible space within for the use of a personal office, studio, and recreation space while maintaining a sense of openness and transparency to the exterior landscape through the use of large sliding glass doors and complementary windows.

The shed is constructed with typical wood studs surrounded by a plywood and stucco finish on the exterior and a gypsum wallboard finish on the interior. A corten steel roof, supported by wood rafters and joists, wraps around the shed to provide adequate shade from the strong California sun and formal intrigue. Landscaping elements from ground planters outside the shed crawl up onto the corten roof through metal frames and hang off the roof edge to help cool the shed through naturally stimulating methods.

Thus, a full environmental experience can be achieved from within the shed to help initiate a productive working office garden shed while maintaining a relaxing atmosphere.

Stephen Strugala Design


Click here to read or post comments
Return to Shed Design Competition.
Inside Outside Office Shed
by Jorge Fontan
(New York, N.Y., U.S.A.)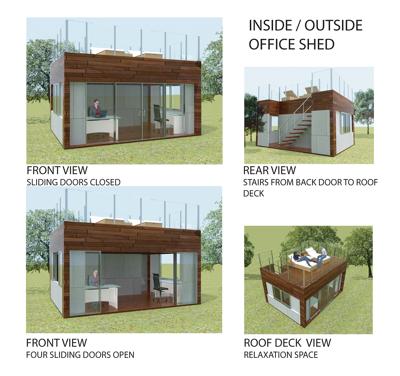 Inside Outside
The main reason to have a garden office is to be in the outdoors.

This shed has four sliding glass doors at the front and two sets of sliding glass windows on the side that open allowing the shed to be part of the garden. One can work inside the shed wile feeling like they are outside in the garden. There is a rear door and stairs to a roof deck on top of the shed, this space can be for relaxation or work.

The design intends to limit the distinction from the interior shed to the exterior garden.
Click here to read or post comments
Return to Shed Design Competition.
micro shed + office
by Jacek Kazimierczak
(Pinczow, Poland)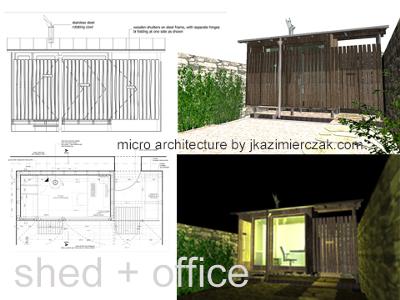 The shed was designed for one of my client but never built in this form. There was very limited space in the back garden, surrounded by stone wall from 3 sides, a typical situation in case of terraced house.

The idea was to have an extra work space, which would also adapt a passage to the back door and shelves for garden stuff. I have used the whole width of the site and pushed the shed as far as I could I have left the minimum space for desk, cabinet and chair.

There are two interesting features in this project: water pond in front of the shed with two little bridges and convertible wooden shutters. The shed is insulated and has mixed wood/steel structure with zinc cladded roof. Materials: timber, glass, steel, zinc.

Designed by jkazimierczak.com studio
Click here to read or post comments
Return to Shed Design Competition.
Black Box
by Rafael Mejia
(Quezon City, NCR, Philippines)

Black, Gold, Black, White.
My office shed is named "BlackBox." It's a box filled with techie stuff, painted black on the outside.

I created glass roof panels and glass paneled windows so that the light can just come in. No need to have too much lighting, hence, just one fluorescent lamp for night time. The roof window panels can be opened so that the air can just come in, too. I put in mind energy saving--my way of not jumping into the global warming problem bandwagon. I also like looking at the heavens on cloudless nights so the roof panel windows double-up as viewing windows.

I made a sliding door so that the door won't take too much space when it swings in or out. The furnishings are my own designs and they are exactly what I want for the shed. I want something futuristic and modern. The lounging chair is called Luna, the computer chair is called Bishop. The gold accents are inspired by my alma mater's chant "Black, gold, black, white." The shed is painted different per wall so that there would be depth and it wouldn't be too boring. I used neutral colors---the hues i used here are black, white, and tones of gray.

I can just be here all day long, watching TV, surfing the net, eating (notice there's fridge and a microwave haha!), and sleeping. It's like disappearing and still being connected with the outside world. Well, sorta. :)
Click here to read or post comments
Return to Shed Design Competition.
The Wild Blue Monster!
by James
(Neverland)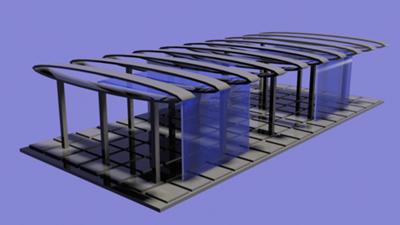 Oh Yeah!
It does pretty much everything! It turns Republicans to Democrats and vice-versa!
Click here to read or post comments
Return to Shed Design Competition.
Compact
by Daniel
(Barnsley)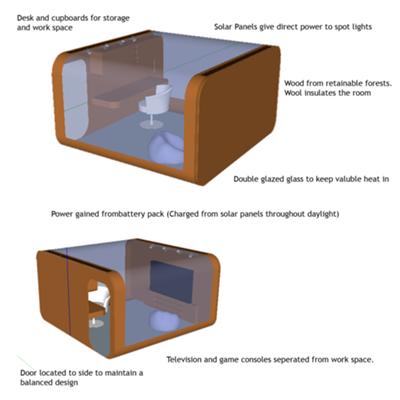 Compact Shed
Small, Sturdy and Light. A Compact office shed.

Get away from the call centre look and sweaty offices. Work at home, and what better style could you have? A study area for your work, and a chillout area opposite, what more could you want from a box in your garden?

This is a realistic office shed, one that you would actually buy and fit into your garden. Plus it is very portable, no foundations, no wires.

Solar Panels along the top of the office power spotlights and give electricity to television. With the light double glazed glass panel, retainable wood and reproductive sheeps wool as insulation you will be snug in the winter, and cool in the summer. Perfect.

Glass is what this office shed is all about, it gives it the freedom of space and of light. Allowing your imagination to overflow with amazing ideas.

This is your Compact shed.


Click here to read or post comments
Return to Shed Design Competition.
Nelson's Shed
by nelson
(bainbridge island, wa)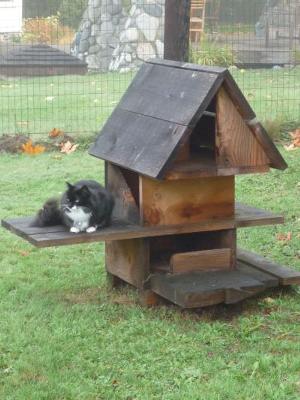 Nelsons's Shed
my names nelson

this is my play pen/shed. i can't roam free because of the coyotes and i spend my outside time playing around my shed. i had some help, from the two legged guy. he used only scrap boards left over from building the barn. the angled boards shaped the upper level attic which i enter only from outside. the side, middle level has two triangle sides that are great for entering and leaving my tail outside to catch the sun on nice days. the lower level has a nice porch so i can sit outside if i like as well. the roof is really the best. it has large gaps that allow me to poke my paw outside when i'm on the upper level. this is useful for discouraging my neighbor fuzzy butt from trying to climb up on the roof. i climb up on the roof to scratch the top so any other friends will know who's shed this is.

my two legged friend is submitting his slat shed (big deal). please please choose me as he's a jerk and i'd like to beat him.

black and white nelson
Click here to read or post comments
Return to Shed Design Competition.
Shedstudio
by marcello murru
(moshav meona --Israel)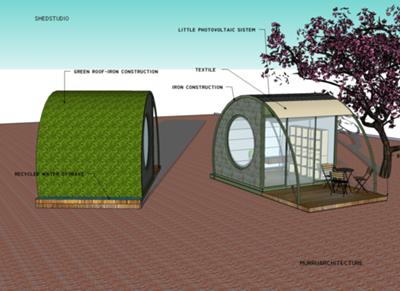 Shedstudio
Measures are 2.50X2.50mt h 2.50mt- extra terrace 2.00x2.50mt.

Structure in recycled iron with water based paint.

Roof in metal sheets with plants and drainage,bottom insulation in cork pannel 5cm or similar

Sandwich wall system
recycled metal sheets outside on osb panel ,5cm of cork for insulation .Secondary structure if necessary in wood or iron.

Window and door patio in glass 4-4mm and iron frame

Floor in wood-beams recycled minimun 20x20cm whit linen oil and wax natural .

Small photovoltaic system kit for led lighting inside and outside ,laptop recharge place and printer.


Storage for water outside 3 tanks of 1000 Lt.


Sunscreen in textile operate from roof to the floor


Furniture:

Outside bistro' table
inside small desk, library and two chairs
possible water point with small sinks.

Complete green design and materials


Possible changes of material according the local culture.





Click here to read or post comments
Return to Shed Design Competition.
Hybrid Shed
by Whizz 25
(UK)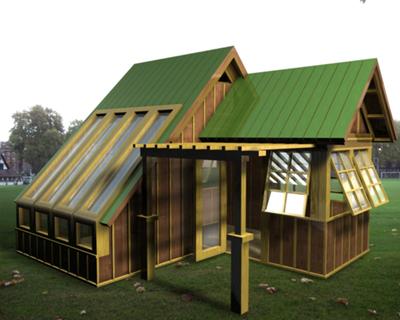 Hybrid Shed
The shed that I have created is a hybrid shed which is constructed by joining together two different types of shed into one.

The first part of the shed provides space for the user to carry out wood work or for storage. This part of the hybrid shed has a traditional look with traditional looking windows. It has a gable type roof. The windows will be top side hung and will be triple glazed because plants could be stored in the shed. The entrance to the shed is by a single hinged door.

The second part of the shed has a larger roof with large windows to provide sufficient light for growing plants (plant shed). The roof of the second part of the shed has a long slanting side with large windows, so as to store and grow plants in the shed. The type of roof used for this part of the shed is a salt box roof. The walls of the shed will be insulated as plants could be stored and grown in the shed. The windows will open sideways (side hung style).

The walls of the shed will be constructed from wood (pine etc.The shed also has a wooden porch. The roof of the shed will be painted green and the walls of the shed will not be painted as they will have a natural colour but they will be polished.

Click here to read or post comments
Return to Shed Design Competition.
CUBE 0101
by GIOVANNI
(SAN JOSE, CALIFORNIA)
CUBE 0101
It has form, it can be used as an office and studio.

Hope U like it, leave a comment.
Click here to read or post comments
Return to Shed Design Competition.
Home Work Studio
by João Pedro Rodrigues
(Portugal, CALDAS DA RAINHA)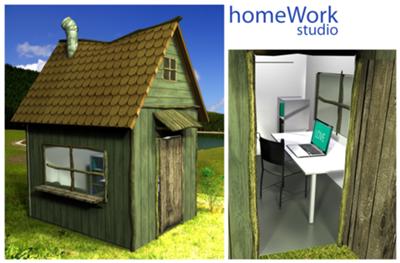 homework
I'm studying multimedia design, and often can not see more around me, technology, steel, computers, gray, so this office was a way for me to contrast with this world where I am.
Click here to read or post comments
Return to Shed Design Competition.
Treepod
by Werryson Wijaya
(Jakarta, Indonesia)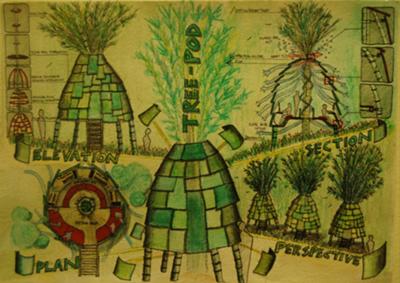 The treepod
The form of treepod is inspired by bamboo shoot-a young bamboo sprout that appears on the base of bamboo trees.

The structure of treepod is a hybrid between traditional bamboo structure combined with the structure of dome tent attached to a living tree as the main structure.

The chosen artificial structure type is considered fit with the function of shed as a semi-permanent structure that can be built and folded easily when needed. Bamboo is chosen because by using bamboo, we can save the forest by reducing wood usage, thus making treepod a more environmental friendly shed.

The covering of treepod is made of overlapping pieces of nylon flaps assembled all over the main structure with several openings to allow cross ventilation. The openings can be closed during the winter to keep the insides of treepod warm.
Click here to read or post comments
Return to Shed Design Competition.
Tranquil Garden Shed
by Jeff
(Sacramento, Ca)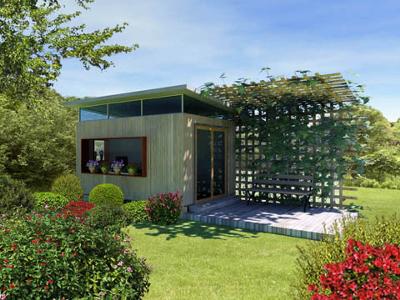 The concept was to create a simple, well lit, peaceful space for working.

The shed's wood siding helps it blend into the flourishing garden that it is engulfed in. The glass sliding doors open up to a wood deck that's shaded by a canopy of ivy wrapped trellis.

Clerestory windows on top, along with a very large framed window behind the desk, provide an abundant amount of daylight as well as views of the beautiful garden as one works. The window features an exaggerated window sill that provides space for small flower pots to be placed directly in the worker's line of sight.

The view of colorful flowers, a lovely garden, and a deck sitting bench shaded by ivy leaves all culminate in a much more relaxing day at the office.
Click here to read or post comments