Super Solar Shed/Office/Cabin
by LaMar Alexander
(Roosevelt, Utah USA)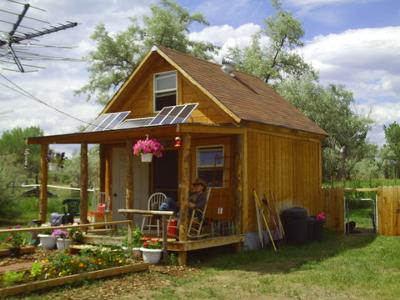 Solar Cabin
This shed/cabin was built from all new materials (except windows and doors which were recycled) for under $2000.


It is 14x14 with a full loft and approximately 400 sqft of space.
Downstairs is kitchen, full bathroom, dining and living area. Upstairs loft is bedroom, office and storage space.
I live in this cabin full time but it could be used for a great workshop shed, office, guest house, hunting cabin etc.
It is powered by a small 350 watt solar electric system for lights, water pump, tvs, laptop and gadgets.
I use propane for a fridge, stove, furnace, and OD water heater.
All my appliances were recycled from an old camp trailer and cost nothing!
This shed design would be great for a workshop where no power lines are available or wanted or can be used for many other purposes.
Additional info and videos are available at:
http://www.simplesolarhomesteading.com
LaMar Alexander