Studio in the Garden
by Claire Wren
(Austin, Texas, USA)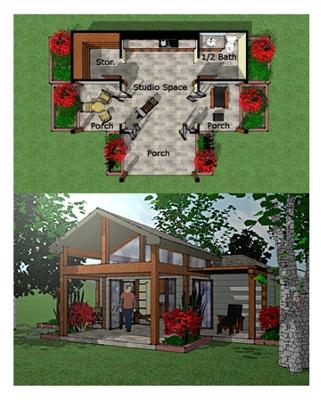 Objective:


To create an all weather work space that can be completely opened up to the integrated exterior spaces.
Design Overview:
The largest portion of the program is dedicated to a large interior studio space where the user can paint, sculpt, design and create. The rear wall of the studio space has cabinets for storage, a sink and stone counter tops to serve as another work surface. The studio space is flanked by a storage room and a half bath room. The three exterior walls of the central studio space open up onto separate porches with accordion glass doors. The main porch is completely covered and the smaller porches to either side are covered by integrated trellises.
The color scheme is mainly earth tones so as not to compete with the natural setting surrounding the design or the user's current work in progress. The flooring material is stone and is carried throughout the interior and exterior of the design to reinforce the idea that the exterior and interior are one integrated space. The same stone is used as the back splash and the counter in the rear of the studio space.