Solar shed
by Jake
(Finland)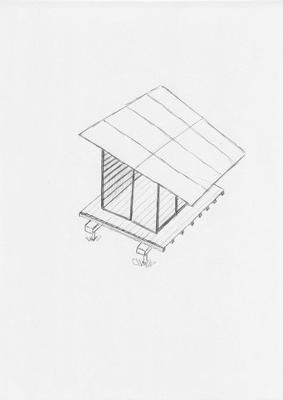 Sun Room Shed
BACKGROUND


I've been part of many log home building projects. Often people need to have some kind of source for off-grid electricity. Most of the time solar is the long-pondered choice. However, people really don't want to fix panels to their brand new home (they just want that particular style no matter the cost for convenience), this is where my sunroom shed comes to play.
PURPOSE
Log home owners (therefore I make the leap of faith and include every other home owner to the list) are quite picky group of people and don't want any odd looking metal racks for supporting solar panels on their backyard, no matter how needed they would be.
Sunroom will work as a camouflage solar panel stand. Home owners can feel proud to have such a nice little shed on the yard as a mini retreat for afternoon tea. However, the real value comes from those solar panels that sport as the roofing of the shed.
USE OF THE SUNROOM
Place it as a lean-to against your house or build it as a stand-alone shed.
FOUNDATION FOR SUNROOM SHED
I bet you haven't heard of this foundation type - screw plinths! Yep, you screw them straight down to soil and after half an hour or so you have your plinths ready and waiting for load bearing beams so that we can build up the shed.
SUNROOM SHED FLOOR
Floor is made from engineered plastic wood combination so inside it works as ready flooring material that doesn't need painting or staining and guess what? It is the same outside. You can expect to get 15 to 20 years out of this material so is should last for the lifetime of an average
garden shed.
SUNROOM WALLS
Back side is from 88x180 logs (I can't hide my log background, can I), sides are fixed triple-layered windows and on front we have sliding doors. Lots of light and openness.
ROOF OF THE SUNROOM
Solar panels fixed to a frame just to satisfy most of your electricity needs. With insulation or without.
Return from Solar shed to the Shed Competition page