Shedstudio
by marcello murru
(moshav meona --Israel)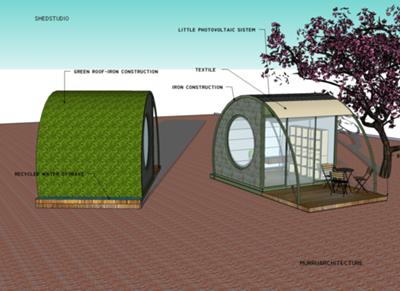 Shedstudio
Measures are 2.50X2.50mt h 2.50mt- extra terrace 2.00x2.50mt.


Structure in recycled iron with water based paint.
Roof in metal sheets with plants and drainage,bottom insulation in cork pannel 5cm or similar
Sandwich wall system
recycled metal sheets outside on osb panel ,5cm of cork for insulation .Secondary structure if necessary in wood or iron.
Window and door patio in glass 4-4mm and iron frame
Floor in wood-beams recycled minimun 20x20cm whit linen oil and wax natural .
Small photovoltaic system kit for led lighting inside and outside ,laptop recharge place and printer.
Storage for water outside 3 tanks of 1000 Lt.
Sunscreen in textile operate from roof to the floor
Furniture:
Outside bistro' table
inside small desk, library and two chairs
possible water point with small sinks.
Complete green design and materials
Possible changes of material according the local culture.