shed@greenhouse
by Aza Summers
(Honokaa, Hawaii)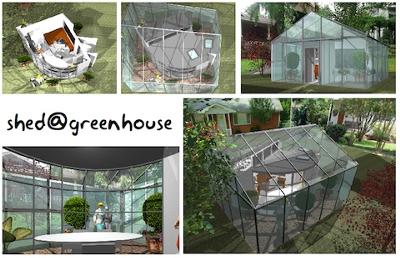 shed@greenhouse
On the most basic level, we build a shed to provide for a use that needs to be shielded from or interfaced with the elements - rain, snow, wind, sun, flying and crawling organisms or other natural stuff - and should be designed to provide a suitable environment for the intended use. If you want to provide an environment that is habitable, then you will need to consider lighting, ventilation, heating or cooling, views, and other personal requirements, along with these extreme climate conditions.


The shed@greenhouse concept proposes to provide a solution to your particular needs by articulating each sheltering element, and then selecting appropriate options. It is a "two skin" solution - an outer greenhouse "skin", and an inner shed "skin". You could make your vegetable garden in between, in the greenhouse area.
The greenhouse "skin" can be adjusted to control wind and insects, and the UV, intensity, color, or other aspects of the natural light from the sun, while allowing light, views, ventilation with screening or filtered air intake. This provides a modified environment for your shed.
Your shed "skin", inside the greenhouse, can be designed to further ameliorate your environment, providing privacy, shade, heat and sound insulation, or views out as desired, and will not ever be rained upon, thus adjusting easily to the modified environment supplied by the greenhouse.
Your shed could be built with virtually any suitable material and would not need to shield your environment from extreme conditions. As long as it is structurally suitable, your shed can take on any shape or character you like, inside the greenhouse environment. The example shown is an office with curved windows, clerestory windows and skylights over dark spots. Insert your own shed fantasy here.
The greenhouse space between your "shed" and the real world could be inhabited by carrots, beans, lettuce and birds.