Shed Building Monthly January 2010
Happy New Year and welcome to the first issue of Shed Building Monthly for 2010.

In this issue we are going to depart from sheds for a little while and focus on shed designers. One shed designer in particular, Kenny Van den Berghe the winner of our recent Shed Design Competition. Kenny has very kindly agreed to answer a few questions to let us know a little more about the background to his winning design.



1.0 Introduce yourself Kenny! Tell us where you come from and how you ended up studying at a design academy in Italy?

I am Kenny Vanden Berghe, 24 years old, Belgian. I started my higher education with a Bachelor degree in Marketing management and Communication in Brussels (with 6 months erasmus in Utrecht, NL). I then went to Maidstone, UK, to do one year of Foundation Studies in Art & Design at the University for the Creative Arts (UCA) with a major in Fine Arts, to foster my creativity. I then realized I had a real passion for design and decided to go to the Florence Design Academy where I did a one year intensive course to get a Bachelor in Interior Design and am now doing a Masters Interior Design and a Masters Industrial Design. It is a lot of hard work, but when you love you don't count!


2.0 How long have you been interested in architecture?

I have liked architecture and design for a long time and always had big interest for arts in general (painting, music etc) but it took me a while, about 22 years, to realize I had a real passion for design and architecture and wanted to make a living out of it!


3.0 Have you built a shed or been involved in building any other structure yourself?

It was my first time developing a concept for a shed, and I found it very exciting and challenging! Of the projects I designed a few have been concretized: I have redesigned a couple of bedrooms and bathrooms and am currently, with two of my colleagues Matina Bletsa and Luisa Fernanda Pastor, redesigning and building a new multimedia room for the Florence Design Academy.

(Note: for pictures of these scroll to the bottom of this interview)


4.0 Have you won any other design competitions?

I am quite new to this world of competitions, I participated last year to Design & Art Direction Student Awards. This is my second design competition and my first win! I think competitions are very important for young designers as they give you a realistic briefing (that is not from one of your teachers) and force you to give the best you have. I find it really stimulating and challenging!


5.0 Sustainabiliity is an important part of your design which single feature of your design contributes most to its sustainability and why?

Thats a tough one! I'm not sure we can say there is one feature that contributes more to the sustainability of the "Open Office" shed than the others.. It lays first of all in the planning and orientation of the shed and
then in the choice of materials. For me you have to see it as a whole, it is the combination of all the small features that make it a green shed and reduce its impact on nature. It's the use of wood, of big double-glazed windows, of solar panels, of a wood burning stove, the movable panels on the outside for extra isolation or shading, the use of non-toxic varnish etc. that make it a really ecological shed.
6.0 I understand that you are interested in recycling through other projects on the internet can you tell us about these?
As a Final Major Project of my Foundation Studies in Art & Design, at UCA in Maidstone, I created a project called "Do you recycle?" that is still ongoing today. It is this project that made me realize my passion and love for design. I wanted to mix my marketing communication skills and my art skills to promote a noble cause in a new and interactive way. This project has for purpose to promote recycling in a fun way by allowing people to share their work and ideas to convert waste and reusable materials into useful daily objects or works of art. The aims of this organization are to generate awareness through artvertising campaigns, with members from over 57 countries worldwide, and art exhibitions. You are more than invited to join the facebook group and share your works and ideas!
7.0 What would be your top tip for anyone considering designing and building their own shed?
Keep it simple (feasible) and realistic (price wise). First of all consider what kind of use you want to make of your shed (storage, studio etc), depending on the use you will make you will use different materials, different type of isolation, finishings etc. The choice of materials is crucial and a good planning beforehand is necessary to know exactly what you are doing, in what order to do things and to buy the right quantity and quality of materials. If you are not familiar with building, specially the plumbing and electricity wiring do not hesitate to ask help of professionals as they are delicate aspects of building that might cost you a lot afterwards if you made any mistakes (leaks, fire etc.). Don't forget to consider the ecological impact of your building and see if, within your budget, there are any ways you can reduce it (materials, finishing (natural varnish etc.), ecofriendly heating if required etc.)!
Links:
my email: info (at) KBerghe (dot) com
my personal website: http://KBerghe.com (that I hope will be online by the time this is published!)
my
behance
account (creative networking)
Here are some picture of the projects mentioned above, watch out for Kenny in years to come!
Bedroom Design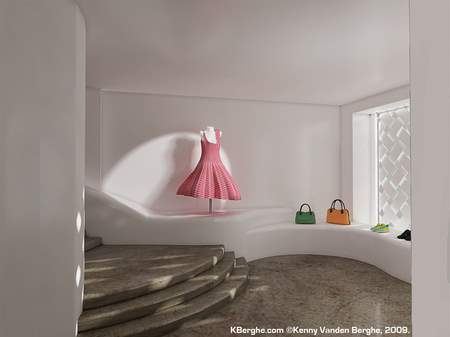 Concept for a flagship store in Brussels for Japanese fashion designer Yohji Yamamoto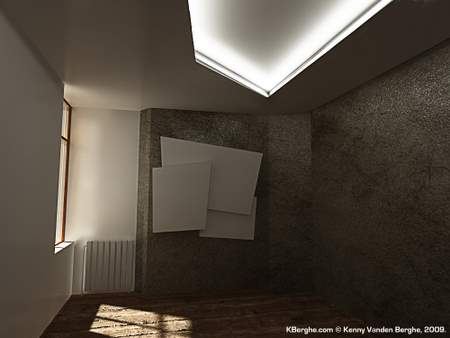 Multimedia room: concept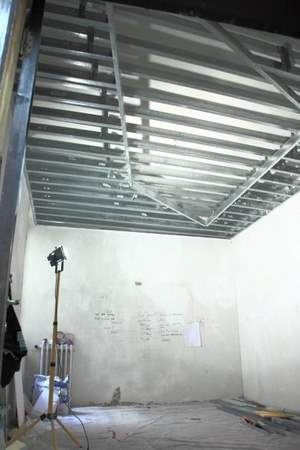 Multimedia room: ongoing works
So there we have it, a big thank you to Kenny for a great competition winning entry and also sharing a his knowledge and enthusiasm.
All the best for the New Year and see you in February.
Cheers
John