Puzzle Box
by Julia
(Australia)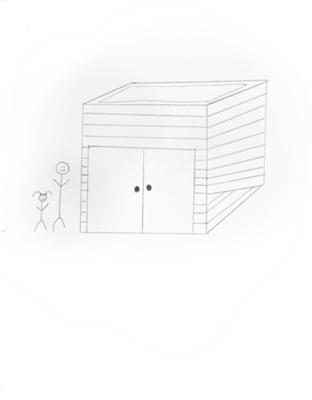 My dream shed design would incorporate all the different uses my family would have for a shed and was inspired by a documentary I saw on people who live in tiny spaces. This shed would be a workspace, studio, spare bedroom and kid-friendly haven all in one.


To create all the necessary space everything would fold away into the walls or the floor. The left wall would have slide-door openings, one on the top and one on the bottom. The bottom slide door would house a flat screen television and the top slide door would open into a cupboard area to keep all the general stuff you keep in sheds like old toys and games.
The bottom half of the right wall would be a fold out low-lying couch to watch the television on. The top would be two swing open doors that would house tools, paint, and general work tools.
The top half of the back wall would fold down to be a workbench, working in concert with the swing open doors on the right wall. The bench would have an inlaid pop-up easel for art use. The bottom half would have a pull out bed for guests.
In the floor I would have a small trapdoor which opened into an insulated box that would store cold drinks. This would have to be built into the concrete slab base, preferably within arms reach of the couch when it was folded out.
You might have noticed that with all the wall space already being used there is no room for windows. The doors would somewhat compensate for this by being large, barn-style doors. Above these door would be a small heating unit. I also would love to have the roof made completely of clear perspex so that you could either watch the clouds go by or at night guests could look straight up at the stars. It would need a roll-over cover so that the room wasn't unbearable in the midday sun.
Return from Puzzlebox to the Shed Competition page