Pure sound studio
by D Derbyshire
(Kent, England)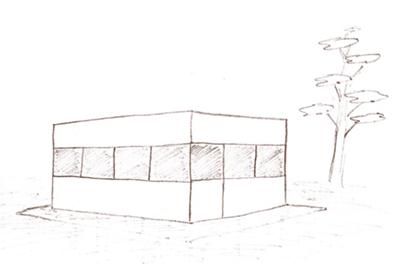 A pure design for uncluttered creativity
This is my vision for my dream home recording studio. It is inspired by the work of the modernist architect Le Corbusier and its purity of design will hopefully inspire my recordings.


Outside, the walls are white, completely flat and only broken by the horizontal band of flush-fitting, tinted windows. The effect is very simple, pure and striking and even the door is concealed - only revealed by a thin, vertical line in the end wall. The handle needs to be colour coded with the windows to hide it.
The top of the walls conceal a flat roof with hidden gutters around the edge. Obviously the down pipe will have to be inside the shed so as not to break the lines of the exterior. All the walls have to be insulated and the windows double glazed to keep the music inside and unwanted noises out.
Even with a heavy tint, heat is going to be a problem, especially in summer so some kind of ventilation needs to be concealed on the flat roof, but obviously without introducing any noise.
Modern recording techniques have reduced the size of studio equipment to little more than a computer. This too can be concealed leaving just a keyboard and a wall-mounted flat screen. There also needs to be a way of storing microphones and leads out of the way to avoid them affecting the look and sound of the performance area. The important element is to keep a clear working environment to allow unrestricted creativity.
Return from Pure Sound Studio to the shed competition page