Pleasant Porch Shed
by Sander Timmermans
(London)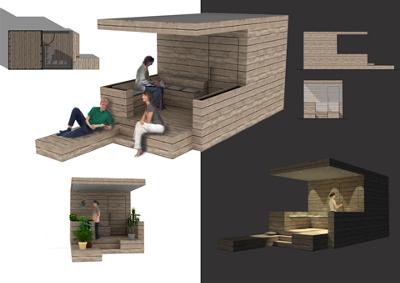 Creating a pleasant place


This Porch shed is designed with the idea to create a pleasant place where people want to stay and interact with.
To create a pleasant place a balance between enclosure of the porch to create a private place and keeping it open to the outside by spatial continuity is needed. This is done in several ways : One way is by elevating the porch by three steps to create a podium which embodies the place. By elevating the base plan a separation between the porch and the surrounding area is created. Because the porch is only elevated three steps, spatial and visual continuity is maintained. Another way this is done is by the balance of enclosing the porch with parapet walls and keeping it open. The left side encloses the porch and the right side opens up to the surroundings by not placing a parapet wall around the corner. The last way it creates a balance between openness and enclosure is with the overhang above the porch. This overhang creates a sense of enclosure which would be strengthen by putting columns in the corners. By not doing that a balance between the openness and enclosure is maintained.
To let people interact with the porch, objects are created for different use, an example is the long lower extension of the porch. This can be use as a sun bed but also as a podium for plant pots. Another way interaction is triggered is done is by keeping the design of the porch shed clean, simple and without decoration so that people can interact by decorating and modify the shed to their own style and use.
Because of this interaction and balance between openness and enclosure a porch is created which users will experience as a pleasant place where people want to stay and interact with.