Plant and Play Shed
by Nate Wensowitch
(Austin,TX, USA)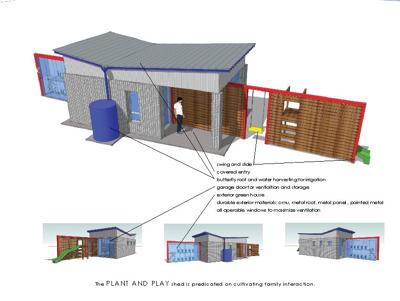 Plant and Play Shed
The Plant and Play Shed cultivates family interaction by incorporating the functions of a porch shed and a playground component for children.


The basic functions for the shed includes a garage door to provide access and storage of lawn equipment while allowing for substantial ventilation in conjunction with operable windows.
The dominating form of the butterfly roof provides water catchment into a rain harvesting retention container to irrigate the attached vertical greenhouse.
Attached is a childs' swing and slide. This component serves to fuse two basic backyard functions into a single, cohesive unit. The solution allows parents enjoy their outdoor space while interacting at a close proximity to their children playing.
Durable, low maintenance materials include CMU, standing seam metal room, metal wall panel, painted steel, and FSC Brazilian hardwood.