OPEN OFFICE
by Kenny Vanden Berghe
(Belgian studying at Florence Design Academy, Italy)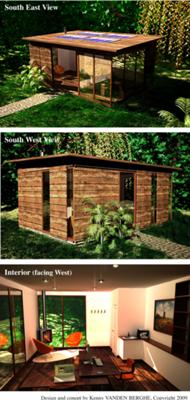 OPEN OFFICE SHED
The "Open Office" shed is divided in 3 areas: a living/meeting area, a working area (a modular desk for up to 3 people, storage etc.) and a utilities area (coat-hanger, bathroom, sink, coffee machine etc.)


Besides offering a great view and creating the feeling of working outside, the big windows allow to save a lot of energy in terms of lighting, and heating during winter. Thus reducing the carbon print and the electricity consumption. There are no windows on the North side for higher isolation against the cold Northern winds. The solar panels on the roof supply the shed with the energy required for lighting and electrical appliances (computers, coffee machine etc.).
A water-tank is installed on the Northern side (for aesthetic reasons) to collect rainwater used for the toilet and the bathroom sink.
Furthermore the "OPEN OFFICE" is equipped with a wood-burning stove which creates a nice and cosy atmosphere, and provides cheap and natural heating when required. Its position is strategical as it allows an optimal circulation of heat in the entire shed.
But what makes the "OPEN OFFICE" really particular is the movable wooden panels placed on a railing system on the outside of the shed (cf. 2nd picture). These panels provide extra isolation and shading, privacy and intimacy. They also allow to create an infinite number of different atmospheres by simply moving them in different positions!
The "OPEN OFFICE", by the choice of its materials, is relatively cheap, secure (for files, computers etc.), fast to assemble, resistant to time and weather conditions and very ecofriendly!
Materials:
Concrete basis ;
Wood boards assembled by match-boarding, attached to an aluminum frame (more resistant than a wooden frame) ;
Insulation ;
Plaster Boards ;
Double glazed glass ;
LED lamps for lighting (very low consumption) ;
Solar panels ;
Water-tank ;
Alarm system.
Kenny Vanden Berghe
For full size pictures please visit:
http://doyourecycle.org/shed.html