Nelson's Shed
by nelson
(bainbridge island, wa)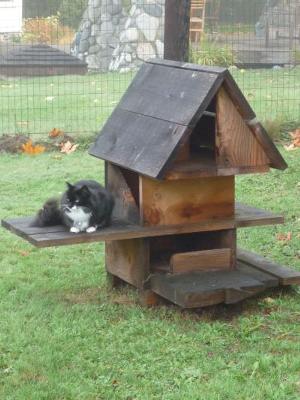 Nelsons's Shed
my names nelson


this is my play pen/shed. i can't roam free because of the coyotes and i spend my outside time playing around my shed. i had some help, from the two legged guy. he used only scrap boards left over from building the barn. the angled boards shaped the upper level attic which i enter only from outside. the side, middle level has two triangle sides that are great for entering and leaving my tail outside to catch the sun on nice days. the lower level has a nice porch so i can sit outside if i like as well. the roof is really the best. it has large gaps that allow me to poke my paw outside when i'm on the upper level. this is useful for discouraging my neighbor fuzzy butt from trying to climb up on the roof. i climb up on the roof to scratch the top so any other friends will know who's shed this is.
my two legged friend is submitting his
slat shed
(big deal). please please choose me as he's a jerk and i'd like to beat him.
black and white nelson