Nature's Shed
by Stanley Sun
(London, UK )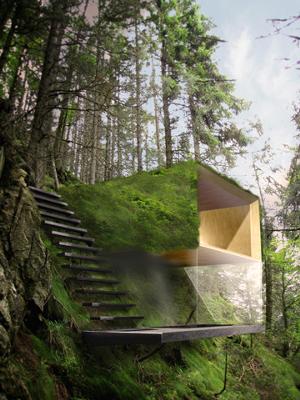 Inspired by the settings of my childhood backyard, this shed is strongly based on the site context and begins to blur the boundary between structure and environment. This shed design is for a visual artist. Someone who, on a regular basis, has changing levels of interaction with the environment; from full engagement by using it as a source of inspiration, to using nature as a source of disguise during times of introspective thought.


Inspired by the principles of a bird-watching lookout tower, we begin to take a closer look at structure in context. How do we create an aesthetic that visually minimizes the impact on the surrounding environment?
The three-tiered design functions for 3 different types of programming:
1 – The upper tier is a look out space. One that is 'public' as it is fully exposed visually and programmatically to the surroundings. The upper tier also becomes the entrance to the middle tier;
2 – The middle tier is a private space. Visually, it is 'hidden' from the surroundings through the use of an applied vertical green wall surface and minimizes the structure's, and therefore the user's, presence within the environment;
3 – The lower tier is a glazed area which creates a semi private space; one that allows the user to hide away from the upper walking path while still having full exposure to the surrounding landscape.
www.stanleysun.com