My Garden Shelter
by T. Bozinova
(Veles, Macedonia)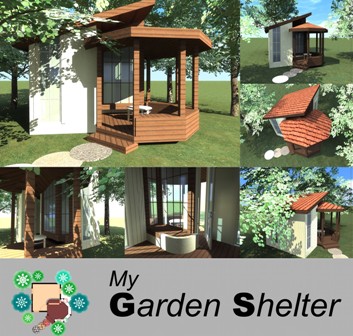 My Garden Shelter
The whole idea of creating a porch shed was the way of how it will suit and remelt within the garden, suit the main function (sheltering) and become one with the nature.


The shape is formed of two volumes: square (the shed- 9.5 square metres) and a polygon (the porch- 7 square metres ); this comes from their different use- internal and external and so the colours are used to symbolize that difference. The porch is taking some part of the shed and their common place has the quality of the two parts: an internal space drawn into and environment with the external nature and the porch. Those 'window' place is perfect to sit on and feel all the outside nature without getting cold in the winter, maybe reading some book. The polygonal shape of the porch gives a line of gathering , sitting in a circle around its centre.
Foundation of the porch shed is on timber bearers, wooden construction (columns and beams), timber wall panels with insulation, wooden floors and plafons. The doors and the windows are with wooden frames and with big glass areas. Roof covering is with shingles in red colour. The path that leads to the porch is made of stone.