MORPHING SHED
by Felipe
(Chicago, IL)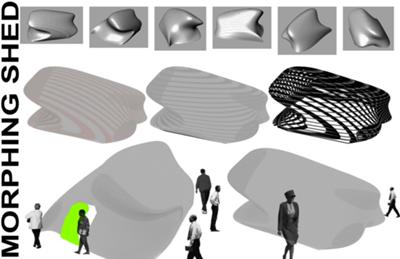 The typical shed seems to be a rigid element for storage. With the development of 3D modeling software the varieties for new typologies are to be explored.


The Morphing Shed is an experiment to explore new modeling techniques of a sphere and morphing it into an organic element that could be a design process to evolve the traditional shed. With that said, this shed is meant to represent a new typology for the shed. One that separates structure and skin. It is also meant to prove that with new technologies in the architecture field one can manufacture the structure of the shed in places that contain laser cutters and CNC machines such as
IaaC
is exploring. This makes the shed inexpensive and possible to construct with such complex forms.
The skin would be picked at choice by the constructor and give it individuality and personal taste.
With technology today, one can develop any form for a shed and calculate the structure for it and morph it according to its function.