leisure space shed
by YOGESH KUMAR BADGAIYAN
(BHOPAL,(M.P.) , INDIA)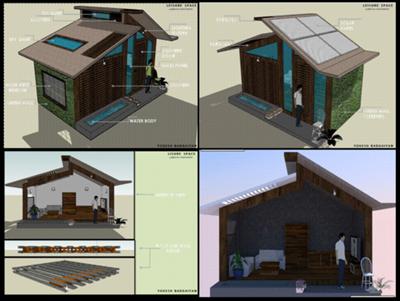 A PLACE TO COME BACK TO
It's a 18 sq.mt portable and green shed designed to spend the leisure watching T.V,to have drink,lounging,reading etc.


As I belong to Bhopal I designed the shed according to Bhopal's climate, think as well as hollow south wall & roof are provided to counter hot sun of summers. There's no opening in south side and the roof is used to place the solar panels, adjustable louvers are provided to control the wind as per the need, pargolas are provided to get screened light,roof and walls are made up of iron(angle section) frame which are supported on six steel columns grouted in the ground.
Roof,wall and the columns are bolted to each other in such a way that whole shed can be dis-assembled and shifted easily when needed. Hollow and light weight bricks are fixed in the iron frame to allow air flow within the roof which in turn maintains the thermal comfort inside the room as well as reduces the load on the air conditioner if used.
Solar panels are provided in the direction of peak sun which again reduces the electricity bills.
My shed provides a worthy stay with savings along.