Indoor-Outdoor-Relaxation Shed
by Naruki Nagata
(Arcadia, CA, USA)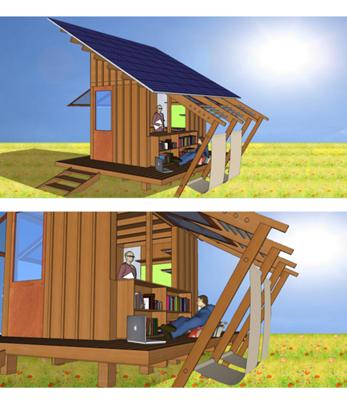 Indoor-Outdoor-relaxation shed
This shed is raised 2 ft 3 in above ground on an elevated deck. The deck wraps around the shed and can be used for seating, reclining, as well as a table. On the south side, the deck is covered by a trellis. From here one can access an outdoor bookshelf and a counter above, which is a direct extension of the desk from indoor. Two canvas seats are provided so that one can sit close to the ground and have one's knees tucked under the deck (or stretched on top of the deck, whichever one prefers).


Reading, meditation, working, dining, chatting with friends and family or relaxation, it would be an ideal porch shed for spending those long summer days. All electric power is generated and provided by photovoltaic panels on the roof. Outdoor bookshelf would have a waterproof outlet built in.
Four awning windows on north and south open up to facilitate cross ventilation of indoor space as well as visually and physically connecting the indoor and the outdoor.
Note: Since I live in Southern California, I'm inspired by the climate of my location.