Home/Office on the Range
by Jay Winfrey
(Portland, Oregon)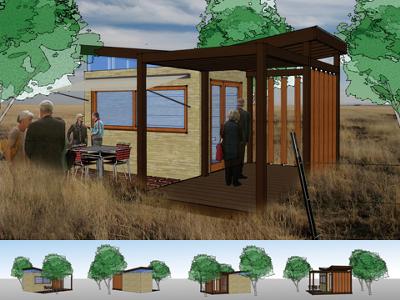 The Home/Office on the Range is a shed porch design that highlights the dramatic beauty of the West Texas Plains while protecting its inhabitants from the drastic weather events common in the area.


The porch is organized into three sections: an open patio covered by a retractable awning, an outer porch covered by a slatted wood sunscreen common in Texas architecture and an inner porch surrounded by movable louvers. Each area presents different possibilities and uses such as having an outdoor meeting on the patio or relaxing after work on the inner or outer porches.
A butterfly roof sits atop the shed and inner porch. The shed interior is covered by insulated corrugated metal roofing while the inner porch is covered by a translucent corrugated polycarbonate roofing. This translucent roofing will allow diffused natural light to fill the inner porch.
The louvers work on a pivot system. They can be lifted slightly and rotated individually. Lowering the louvers will lock them into a closed, fully open or 45 degree position. Closed, the louvers will protect you from strong Spring and Winter winds. Opening the louvers will allow you to watch the thunderstorms as they build in the East or experience a dramatic West Texas sunset.