HANGING GARDEN
by Hitesh kamdar
(Supernova Design studio,Delhi, India)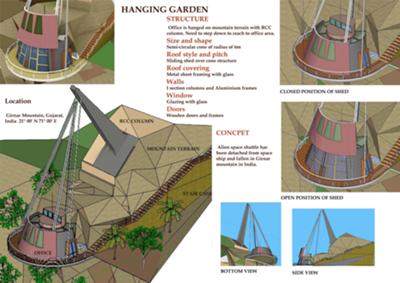 ALIEN SPACE SHUTTLE
HANGING GARDEN


Concept
Alien space shuttle has been detached from space ship and fallen in Girnar mountain in India.
Description
Surrounding environment always plays an important role for any designer to think freely. Considering the fact I imagined a place for my garden office which is in the laps of mountain terrain. Environment around me, with a great panaromic view increase my imagination power to think for my various design project out of traffic noise and pollution and achieve great success with every project which I handled within my office.
Location
Girnar Mountain, Gujarat, India 21° 00' N 71° 00' E
Structure :
Office is hanged on mountain terrain with RCC column.
Need to step down to reach to office area.
Size and shape
Eliptical cone have radius of 6m
Roof style and pitch
Sliding shed over cone structure
Roof covering
Metal sheet framing with glass
Walls
I section columns and Aluminium frames
Window
Glazing with glass
Doors
Wooden doors and frames