GROW YOUR SHED!
by Matthew Engele
(Sydney, Australia)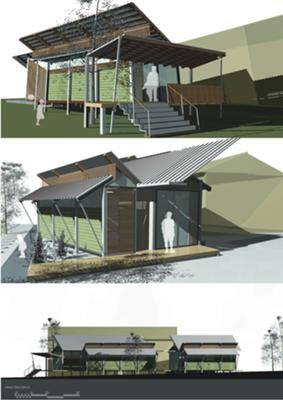 Why shouldn't all sheds have the capacity to grow like our gardens? Perhaps the function of our shed changes from a storage space to a studio or from a small studio to a larger office space.A measure of a great shed design is its ability to perform well on sites as small as a London backyard to as big rural farm in Sydney.


The Grow Your Shed design incorporates the porch as a fundamental element in creating these versatile sheds. It is the porch in this design that serves the role of not only connecting the interior space to the exterior but also the connection between sheds as they begin to grow in number. The porch in this design is considered a continuous element that after greeting people at the front entrance with a large shaded overhang and raised podium it leads them through the buildings.
The porch is an architectural element that is commonly found in hot climates, and therefore this project incorporates a number of simple cost efficient techniques to ensure it is sustainable. The butterfly roof system provides great shading from the harsh summer sun and also is ideal for water collection. The adjustable skin of the building is a system of wooden louvers and sliding doors that allow occupants to control the amounts of natural sun and air circulation through the spaces. Finally the shed is raised up off the earth so that there is a minimal affect on the site as well as allowing air flow under the building that will aid cooling in the summer months.