Green's Green Green Shed
by Rachel Green
(Chesterfield UK)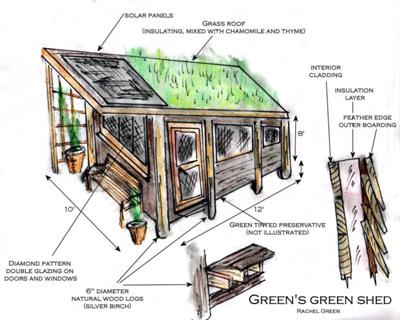 Office in Green
Green's Office in Green:


Grassed roof with solar panels as back-up power and solar carriage=lantern lights on the front and side.
Insulated walls, floor and roof
Wired on a separate spur from the house for electricity and network access.
roof drains into water tank.
natural tree trunks for support beams and split boards for outside walls
Pine boards on inside - desk and guest sofa-bed.
leaded double-glazed windows
Outside in green tinted preservative.
Return from Greens' Green Green shed to the shed competition page