Glass Porch Shed
by Michael Janzen
(Fair Oaks, CA, USA)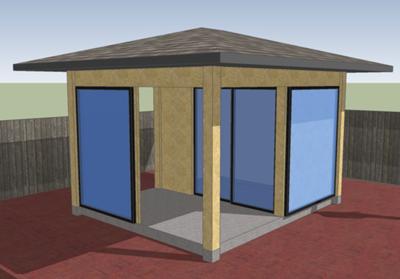 Glassed in porch shown open.
I decided to do something a little unusual and enclose the porch with sliding panels so the owner could have the option to use the porch as an additional room in bad weather. In good weather the porch could be opened up completely (or partially) and used as a covered outdoor space.


A modification not pictured here could be to replace the glass with solid panels, although I think the glass would bring a lot of light to the space. Using solid panels would also reduce the cost to build this shed. Another modification could be to add an additional window in the back room to provide some cross ventilation.
Each room measures about 5' by 9' which seems like plenty of space for a small home office. The overhang is a generous 2-feet all the way around to help keep the walls shaded and avoid overheating from the summer sun. If this were built in a cooler climate the eaves could be made smaller to let the sun through the glass to help warm the space.
I've also posted the design, photos, and video at:
http://www.tinyhousedesign.com/2010/05/14/porch-shed-competition-entry/