GARDEN OFFICE SHED
by Mr Ryan Young
(Glasgow, Scotland)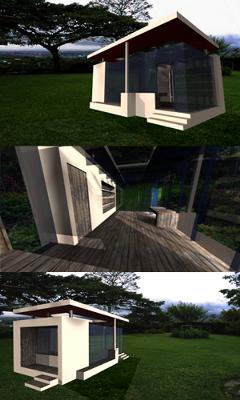 GARDEN OFFICE DESIGN:


The interplay between solid and transparent wall and roof elements and the warmth of timber cladding combine to form a new garden office.
Sunlight floods in through the frameless glass walls and roof and solid walls provide relief from the glass and a sense of enclosure.
The Garden Office allows the user a place to escape from the various trappings of the house environment.
Connections are made with the garden through the expansive use of glazing and seating / porch areas around the outside of the structure.
The garden office could also double as a summer dining room.
ENVIRONMENTAL RESPONSE:
Substantial Environmental and Economic benefits are gained by reducing the need to commute;
"The average commuter driving an average car, covering the average commute distance will produce almost one tonne of CO2 per person per year" Workwise UK, 2007.
CONSTRUCTION:
The construction cost is substantially offset by future savings made by not needing to commute. The SIP's panels are manufactured under factory conditions, are an environmentally friendly method of construction, are cost effective, lightweight, dimensionally accurate and reduce
wastage and construction times.
The proposed constructions for the various elements are as follows;
Solid Wall Construction:
12mm external white render system
250mm SIPS (Structural Insulated Panel System)
13mm internal white lightweight plaster and Western Red Cedar Boarding
Solid Cantilevered Roof Construction:
SIPS Panels with white render fascias, red render soffit and EPDM waterproof layer to roof. Support Columns for the roof are CHS powder coated aluminium (white)
Glass Wall and Roof Construction:
High Performance Low E Planar Insulating Glass Units with silicone jointing and structural glass fins.
Outer pane: 6mm toughened float glass
Cavity: 16mm Argon filled gas
Inner pane: 6mm toughened Float glass with Low E
coating
Floor Construction:
Western Red Cedar Decking
Underfloor heating mat on 6mm insulation boards
Vapour Control Layer
100mm Rigid Insulation Boards
DPM
100mm Concrete Slab
150mm Hardcore
FACILITIES PROVIDED;
Office Desk
Day bed / internal seating area
External Porch and seating area
Shelves / Storage wall
WC and WHB concealed within storage wall
Recessed trench heaters around perimeter of glazing and underfloor heating
Electricity and Lighting (with option to install Solar Panels on roof)