ECO Traveler - Office on the road
by Andrew Scherr
(Florence, Italy)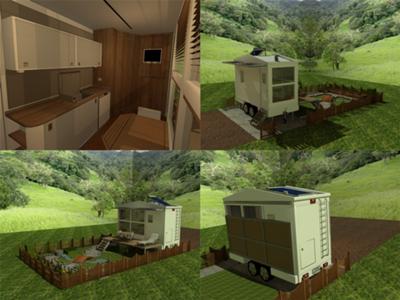 The ECO Traveler concept is a shed office on wheels, specially designed to be towed by a car, van or pickup by means of a bumper or frame hitch. The ECO traveler provides all the comforts and necessities of an office while on the road.


The explicit goal is to demonstrate the possibilities of green energy sources. This is a contemporary and creative design that includes a variety of renewable energy sources combined to match your needs while protecting the environment.
It is fully insulated and made with recyclable, reusable and light weight/durable materials. The exterior is made with lighter colors to reflect the sun's infrared rays back into the atmosphere and thereby allow a cooler interior and lower energy bills. A removable porch is added to add the possibility for spending time outside.
Below is a rundown of the features:
-CHASSIS: Uses 30% to 100% recycled materials.
-EXT. WALL:Recyclable aluminum with natural insulation
-WINDOWS: tempered and tinted Low-E dual glazed glass
-ROOF: incorporates rain water collection.
-PASSIVE WATER HEATING: Evacuated Tube Solar Collectors
-NO WASTE DUMB: Collected in tanks hidden under trailer.
-ELECTRICITY: PV panels, stored away when driving.
-INTERIOR: compost toilet, foldout bed, sliding doors, fully-equipped kitchen, 12-48VDC/220VAC Circuits, satellite TV, LED flat-screen TV, LED illumination etc.