Dual Purpose Garden and Storage Shed
by Danny
(Suquamish, WA, USA)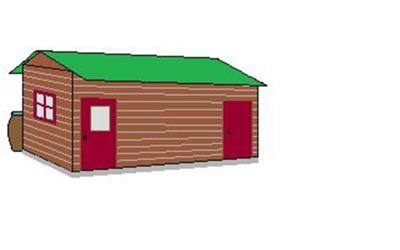 Shed with rain barrel in back
In building a shed I needed to look at need versus want. My family has recently moved several members back into the home and space is now at a premium. We needed a shed for storage space for our belongings as well as for the garden tools we wanted to get out of the garage so we can have a warm place to work on our cars.


In this vein I have designed a shed that has two rooms that are divided by a wall. Each of the rooms has its own outside door. This is so that the one containing personal items can be secured while leaving the other open to the family. There will be no interior door between the rooms so it will almost be as if they are two separate sheds joined at the hip so to speak. The overall dimensions of my shed would be roughly thirty foot long by ten foot wide with a seven foot ceiling.
We receive a fair bit of snow so a sloped roof was a must. It also required that the side with the personal items be properly insulated so that moisture could not spoil anything. The inside walls of this side are sheet rock with insulation underneath. A low wattage bulb will also be installed to help keep the moisture down as well. For security reasons no windows would be added to this side.
Since there is a good deal of snow and rain the roof there will need to be a dead
space created on the storage side so that insulation can be placed in between the ceiling and the roof. There will be a plastic ground barrier underneath the shed so insulation between the floor joists will not be necessary.
On the tool shed side of the building things will be much simpler. Instead of placing sheet rock around the walls I would place pegboard. This will allow me to create a myriad of layouts for all my garden tools and yard equipment to hang and keep everything from getting under foot. I would hang a florescent light fixture so that there would be enough light to see by if I need to work on any of my tools in the shed. I would also add windows that could be opened for ventilation if I need to be inside for any amount of time.
I would install lapboard siding on the outside of the shed since it would be the most conducive for runoff from rainwater here. I would also place rain barrels on two corners so that I would have plenty of rainwater for my garden. This would be much more cost efficient than watering it from the tap. There is a propensity for moss to grow on shingle roofs here so I would most likely go with a galvanized tin roof. It would last a great deal longer than shingles and when it finally goes it can be recycled whereas the shingles cannot.
Return from Dual purpose garden storage shed to the Shed Competition page