Build Sequence of a DIY Garden Shed
This Must be the Strongest DIY Garden Shed I Have Come Across!
I love it when readers of this site send in pictures of their projects and details of how they overcame specific problems to achieve a great result. Cherry Douglas who runs the website how-to-change-careers.com sent in these photos of a shed building project that she and her husband Ian (well....as you will see from the photos it was mainly Ian!) successfully completed. I really liked the way these photos fitted into a sequence, so I made them into a Photo story.
The words are mine and I hope not too cheeky!
Enjoy......
Photo 1.
Just getting started with a spot of digging. Good to see that polythene damp proof course going in beneath the concrete shed base
Photo 2.
Doing a great job of keeping those blocks level and keeping the site tidy as work progresses.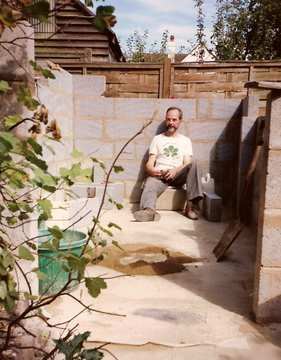 Photo 3.
With the walls up to window sill level it must be time for a cup of tea!
After the break follow on to DIY garden shed Part 2 to find out how the job finished up.