Design Deckhouse
by Dayna Beck
(Ontario CA)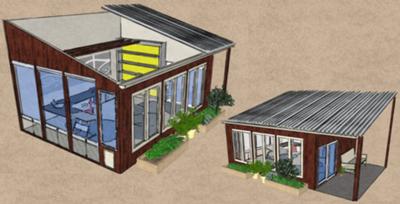 Design Deckhouse - Dayna Beck
Client:


A female illustrator who finds her inspiration for children's books from nature and the world around her.
Location:
East coast. Her shed will be located in the wooded area behind her home.
Dimensions:
16'6" x 27'
Key Features:
*Sloped roof collects water to hydrate exterior plants.
*Entrance is located on the north side of the structure, so the sun isn't intense in the afternoon.
*Open rafter system creates visual interest as well as storage space.
*The floor to ceiling windows on the north side of the structure create a panoramic view.
*A small doggy door is located on the right side of the north wall.
*Built-in bookcase lines the south wall for supplies.
*Flooring is made from reclaimed tile.
*The blue jute rug in bubbly shapes is made from renewable resources.
Additional Notes:
*Because the shed is located in a wooded area, privacy is not an issue.