Compact
by Daniel
(Barnsley)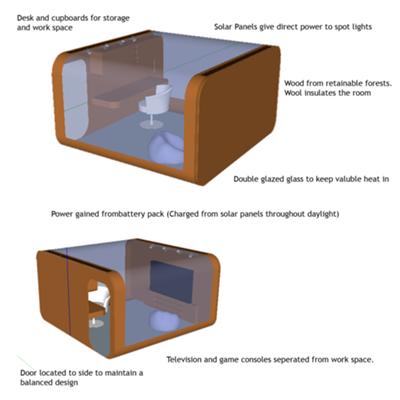 Compact Shed
Small, Sturdy and Light. A Compact office shed.


Get away from the call centre look and sweaty offices. Work at home, and what better style could you have? A study area for your work, and a chillout area opposite, what more could you want from a box in your garden?
This is a realistic office shed, one that you would actually buy and fit into your garden. Plus it is very portable, no foundations, no wires.
Solar Panels along the top of the office power spotlights and give electricity to television. With the light double glazed glass panel, retainable wood and reproductive sheeps wool as insulation you will be snug in the winter, and cool in the summer. Perfect.
Glass is what this office shed is all about, it gives it the freedom of space and of light. Allowing your imagination to overflow with amazing ideas.
This is your Compact shed.