Branched
by Julian Grobe
(Buenos Aires, CF, Argentina)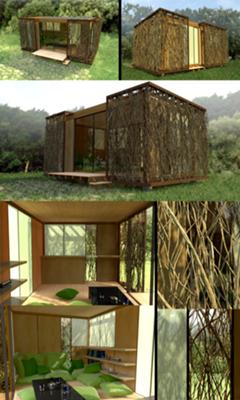 http://j.imagehost.org/0669/lamina_shed_copia.jpg
Natural light is the essence of this shed. It's manipulated in various ways as it passes through layers of tree branches, glass and translucent panels. Layers generate textures with shadows and ambient light.


The outer skin is made from tree branches mounted on a wooden frame, separated from the inner panels. This skin gives privacy but primarily it gives the aesthetical concern of giving a treatment to light, and a highly textured natural facade.
Unpolished wooden surfaces and translucent glass add to the intention of a place for relaxation with soft and diffused light. The rustic surfaces and branched skin with the river rocks exterior flooring tries to make a modern and natural style.
This shed is thought for a subtropical climate in "delta del Tigre, Buenos Aires, Argentina". Here the optimum foundation is over pilotis that gives better insulation from ground and humidity. Also is taken as a gesture of the facade. Roof is inverted as a V of metal sheets and the gutter in the middle drains to a tube within the columns.
This shed has two entrances with sliding door for back and door window for the front, facing the river, or best sight. Front opens to exterior with a platform that integrates with the interior when windows are open.