Beany's Little Studio
by Brian K Jones
(Dallas, Texas US)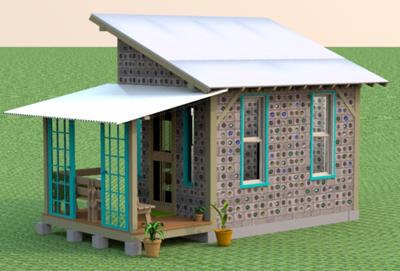 Beany's Studio..with recyled bottles,paper and aluminun cans.
My design is for a small 96sq foot studio with an attached 48sq ft covered porch.


The construction will be post-and-beam on a concrete footing. The infill walls will be cast 8" thick 6" x 12" papercrete blocks(recycled paper, cement, sand).
I am cutting recycled bottle bottoms and making glass tubes that will be cast in most of the bricks. The rest of the glass is crushed to be used with my foundation. The shed slope roof will covered in cut and shaped recycled aluminum cans. Here is the link for that technique. http://www.instructables.com/id/Make-Shingles-and-Siding-Out-of-Aluminum-Cans-Bee/.
The door and large double hung windows are reclaimed. The floor joists, porch columns, and the corrugated porch roof are also reclaimed materials. Reclaimed crusty old french doors will adorn the front of the porch.
I spend a lot of time on the front porch of my 1920's bungalow porch here in Dallas, Texas. It is one of the most important living spaces in my home so it is used as outside dining and entertaining. We often acclimatise ourselves to the Texas heat and rarely use air conditioning. I will use this my small shed as an art studio and personal retreat. The large porch is just an extension to that creative space.
I have already started the collection of materials and have even begun the process of casting my papercrete bricks. I would hope to complete the project before the heat of August. My estimate d expense is less than a $1,000 so far.
I have never built any really..but it seems to be in my nature.
I made the rendering in SweetHome3D...an open source crossplatform program.