An atelier and a Laboratorium.
by Francis Van de Leest
(Belgium Vosselaar (currently living in germany))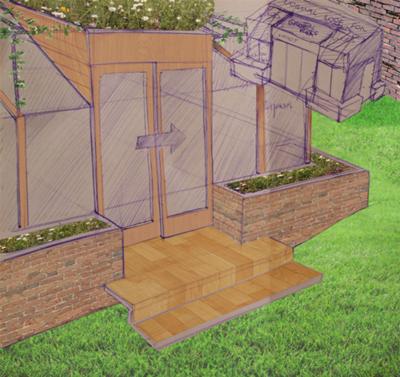 An atelier and a Laboratorium
My parents both are with pension (I'm from belgium, so my english will sound strange somethimes, I'm sorry for this


My mother has been a housemother for a long time now and she paints. My father has been a theoretical chemist for all his live. Since I'm the last child to fly the nest, the house is empty now. Enough space to practice all+ the hobbys you would think.
But the house is a little dark, and the dark rooms are not ideal to paint. And since my father still experiment with a lot chemical stuff (and with plants, my parents are both garden enthusiast, father for fruit and vegetables, mother for flowers and wildlife) They wanted a new shed/atelier/laboratorium/greenhouse in the garden which can be aimed south if it's build against a wall that already is in the garden.
The roof would consist of three parts. A piece of green roof, maybe with wather plants in it, to act as a kind of natural climate control. Large windows to catch a lot of sun in the winter. But with a iron rack above the angled windows where a vine has got to grow. No Ivy. The purpose of this vine is to block the most of the sun from the angled windows. In autumn it loses its leaves, and the sunlight can flow in, so the shed can heath up.
The part closest to the wall will be a normal asfalt roof, This to catch some rainwater to water plants.
In the middle of the shed would be a large sliding door so these doors can open in summer. In the inside under there would be a table at the left of the sliding door for the experimental activities, at the wall side a rack for plants and things. The other part of the shed would be used to paint and sculpt (and other creative activities with grandchildren).
At one side there would be a small door to enter, so in winter you don't lose to much warmth.
Heating would be done with a mixture of compost heating (a lot of compost in their garden, and with a wood stove. I'm not quite sure how the wood stove and the compost heating would be implemented, But I'm working on it. And I hope to upload it before the deadline passes.