A Shed by the Stream
by Pinky
(CA)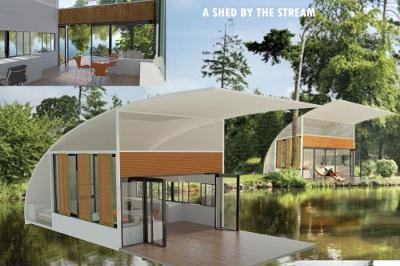 The shed by the stream
A shed covered by an overarching curve that pays tribute to the meandering stream along whose banks it calls home.


The shed serves a studio or study space with an open porch that is covered by the eave of the sweeping prefab curve that is part wall and part roof. A folding door from the shed to the porch can be opened completely leading to a larger extended space. Glass and adjustable louvered operating windows have been extensively used here to get maximum light and ventilation. The louvered panels around the sliding window can be moved or adjusted depending on the season. This shed although shown by a stream in the views submitted, can be installed in any location that highlights the curved roof.
The shed can be used as a weekend fishing retreat, an artists studio, a children's playhouse, or simply a cabin in the woods. Imagine yourself with a book, relaxing on the porch on a daybed waiting for a fish to bite. Walden Pond anyone?