A Morphing Shed
by Pinky
(California,USA)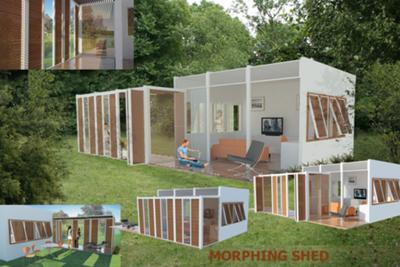 A Morphing Shed
A shed that morphs from an artists studio to a place to gather to a study or simply a place to entertain.


How? The porch for the shed can be moved or reconfigured depending on seasonal changes, mood, or purpose. The porch can be closed completely with its adjustable louvered folding door for privacy or when the weather is cool. The porch can be semi-opened or completely opened extending the space into the surrounding geography thereby creating a strong relationship between the indoors and outdoors. One can enjoy a book in the shade of the porch while enjoying the view of the outdoors if installed on a site with rich foliage. Thus, the porch can morph from one state to another and thereby infusing the surroundings with a particular mood.
The difference in height between the shed and porch allows maximum natural light to enter the interior spaces through the fixed glass. The structure is supported with a wooden frame. The roof of the porch has pergolas alternating with glass. The play of shadows from the roof is heightened by the similar response by the louvered folding doors in the front. Throughout the day as the sun moves from east to west, a dramatic effect is created within the interior space from the shadows cast at different angles by the sun.