A Garden Studio
by Ryan Spicer
(Fort Myers, Florida)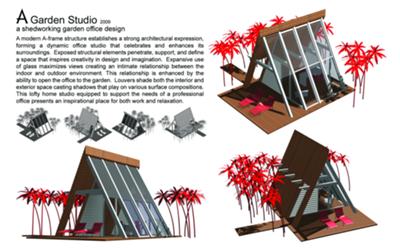 A Garden Studio
A modern A-frame structure establishes a strong architectural expression, forming a dynamic office studio that celebrates and enhances its surroundings.


Exposed structural elements penetrate, support, and define a space that inspires creativity in design and imagination.
Expansive use of glass maximizes views creating an intimate relationship between the indoor and outdoor environment. This relationship is enhanced by the ability to open the office to the garden. Louvers shade both the interior and exterior space casting shadows that play on various surface compositions.
This lofty home studio equipped to support the needs of a professional office presents an inspirational place for both work and relaxation.