Welcome to Shed Building Monthly - Issue No.3
If you like this e-zine, please do a friend and me a big favor and "pay it forward."

If a friend DID forward this to you and if you like what you read, please subscribe by visiting secrets-of-shed-building.com
Contents
1. Fantasy shed competition - The Winner.
2. Latest articles at Secrets Of Shed Building.
3. Your Secrets Of Shed Building.



1. Fantasy shed competition.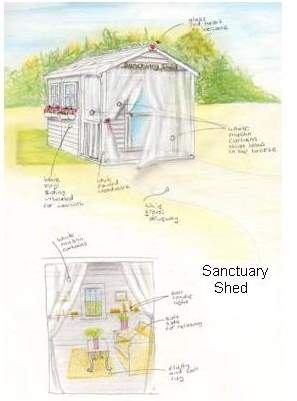 The Sanctuary Shed by Anna-Marie Buss is the winner of our first shed design competition. A Fairly traditional shed shape but with a very calming colour scheme and accessories were what propelled 40% of the voters to choose this shed, giving Anna-Marie a clear lead over the other 10 entrants. Congratulations to Anna-Marie and a big thank you to all who took part in this first competition.

For those of you who missed this opportunity don't worry! There is a new competition coming shortly.

Watch the RSS feed to make sure that you don't miss the start.
2. Articles this month.
I've been busy this month with over 12 new articles

As promised in last months issue I have created an article on Shed Design Software. Have a read to find out about some great aids to planning your shed on your computer.

I have created a new section on Shed Accessories. These are the sort of things that you can add to your shed to make a simple basic shed even better. New information on Shed Alarms and Shed Skylights the existing articles on Shed Ramps, Solar Shed Lights and Water Butts have been moved to this section.

As well as reading this website (of course) and some plans it is always good to read a few Shed Books before you start your project. Shed Books has a fairly wide remit as indicated by the first book - The Specialist a short humorous book about a privy builder in the 1930s. It sort of strikes a chord with me too in a way!

The final section is on Metal Sheds - 'the Cinderella of the shed world'. Normally factory produced. They often look the same but a more detailed look reveals very practical structure for storage and security. This is the first article setting the scene for further reviews of the offerings several metal shed companies showing the strengths and weaknesses of each.
3. Your Secrets of shed building
Please feel free to contribute your stories and comments in these sections

Interesting Sheds – this section is for you to tell about beautiful or interesting sheds in your area of the world. A photo and a couple of sentences is all takes. I have kicked this one off with a rather long article about a trip to Great Missenden to find out about Roald Dahl's writing shed.

Shed Security – A hot topic this one. Has your shed been broken into or do you have any tips to keep out unwanted intruders.

Shed Builders Corner- Do you build sheds for a living? Do you own a shed building company? Tell us about yourself, what you do and give us some tips based on your locality?

I look forward to hearing from you.

Until the first of next month

Cheers

John Coupe
Thankyou for reading Shed Building Monthly
If you like this e-zine, please do a friend and me a big favor and "pay it forward."

If a friend DID forward this to you and if you like what you read, please subscribe by visiting secrets-of-shed-building.com