Welcome to Shed Building Monthly - Issue No. 2
If you like this e-zine, please do a friend and me a big favor and "pay it forward."

If a friend DID forward this to you and if you like what you read, please subscribe by visiting secrets-of-shed-building.com
Contents
1. Fantasy shed competition - The winner.
2. Latest articles at Secrets Of Shed Building.
3. Your Secrets Of Shed Building.



1. Fantasy shed competition.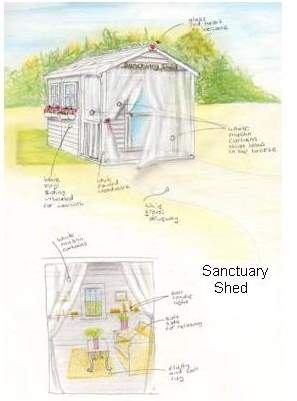 The Sanctuary Shed by Anna Marie-Buss

For those who unfortunately missed this months event an all new revised super competition will be starting shortly after the winner is announced.
2. Articles this month.
Shed design software

Shed Accessories

Shed Books

Metal sheds
3. Your Secrets of shed building
I've started inviting contributions from readers of Secrets of Shed Building so feel free to pitch in on any of the topics below.

Shed Alarms - Has your shed been broken into? What security measures do you use to keep out unwanted visitors. Let us know or ask for advice.

Interesting sheds - To get this one started I wrote a bit about a visit I had with my sone to Great Missenden to find out about Roald Dahls's writing hut. Tell us about any picturesque or interesting shed near you.

Shed Buuilders Corner - I started this section to encourage shedbuilders and shed building companies to tell us a bit about themselves and possibly give a few tips to those going down the self build route.

Thatís all for this month, stay tuned, coming up next month more great shed related articles including the best shed design software around (and its free). Hint: one of the contributors to the Shed design comp is using it already.
Thankyou for reading Shed Building Monthly
If you like this e-zine, please do a friend and me a big favor and "pay it forward."

If a friend DID forward this to you and if you like what you read, please subscribe by visiting secrets-of-shed-building.com