3 IN 1 Shed
by Lee,Talya, Steph
(London, UK)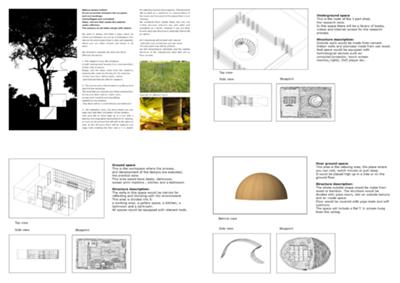 3 IN 1 Shed
Nature versus Culture


Direct encounter between the occupant
and surroundings.
Camouflaged and concealed.
Glass -mirrors that masks the exterior
walls reflection.
The scenery on all sides merge with nature.
We want to design and build a place where as artists and designers we can go and disappear into nature! An environment that is calm and peaceful, where you can either relax and sleep or do work.
We decided to separate the shed into three
different structures:
1. The research zone, this structure
is built underground because it is a representation
of the roots of nature.
Design and Art ideas come from the research, meaning the roots are the key for the outcome.
In this area there will be books, videos
and Internet that are vital for research.
2. The process zone, this structure is on the ground and it is the workshop.
The area that you develop your ideas and practice.
In this area there will be a dark room,
screen print machine and everything
needed for the creation.
Also there will be a small kitchen and bathroom.
3. The relaxation zone, the place where you can relax and rest after completion of the creation.
This area will be either high up in a tree with a balcony and large glass window/doors for viewing, or even on the ground but still will be the place to rest. In this structure there will be cushions and yoga mats covering the floor and a T. V. screen for watching movies and programs. This structure will be built as a waveform in representation of the ocean and the sound of the waves that is very relaxing.
We combined three similar ideas into one, the 3-shed structure interacts one with other and completes as a whole. However if you are likely to only need one structure in particular that is still an option.
All 3 structures will be built with natural
materials such as bamboo and oak wood.
The only parts that will be artificial
are the technological machines and the outside structure of the underground shed that will be from cement.